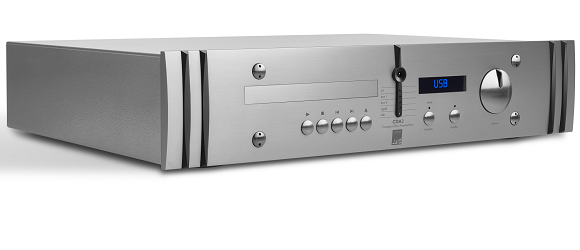 CDA2 Mk2 Preamp with SCM 40A & 19A Active speakers
£2950
We are excited to announce the next generation integrated CD, Pre-amplifier and DAC – the CDA2 Mk2. For those familiar with the original CDA2, on first glance it would be easy to mistake this product as a simple product update. But you'd be wrong... the CDA2 Mk2 offers an extensive list of impressive new features and improvements including:
- High resolution USB input capable of handling PCM data up to 384kHz and also DSD64, DSD128 and DSD256
- CD Player updated with a completely new TEAC transport
- New high-resolution DAC
- Updated power supply
- Additional Aux Analogue Input via 3.5mm mini jack with high input sensitivity
- All discrete Input and Output gain stages.
For elegant simplicity, we can't think of anything that would outperform the new CDA2 Mk2 driving a pair of ATC 19AT / ATC 40A active speakers. Meanwhile, those seeking a more traditional system approach should be urged to audition the CDA2 Mk2 partnered with ATC P1 / ATC P2 power amplification and passive loudspeakers.
ATC CDA2 Mk2 Features:
High resolution USB input capable of handling PCM data up to 384kHz and also DSD64, DSD128 and DSD256 (2.8MHz, 5.6MHz 'dual' and 11.2MHz 'quad' rates)
CD Player updated with a completely new TEAC transport. This delivers faster play and seek times and much lower mechanical noise. The new transport is also less susceptible to CD errors/damage/scratches (greater error correction)
New high-resolution DAC. The new AKM chipset delivers lower noise and distortion and an optimised PCB layout brings further improvements to the convertor performance
Power Supply – additional high-performance voltage regulators have been added - for a total of 9 – and their locations on the PCB optimised. Local power supply decoupling has been further optimised from the Mk1, yielding additional improvements in performance, especially around the new DAC chipset
Additional aux analogue input via 3.5mm mini jack with high input sensitivity for improved compatibility with low output portable devices such as phones and tablets
All discrete Input and Output gain stages. There are 6 common gain blocks, two for left and right input buffering, and four to provide a "true" differential output for the left and right channels. The positive and negative drivers are arranged in parallel to ensure that the positive and negative signal delays and phase shifts are identical. The Output stages are configured as unity gain complementary compound (Sziklai) pairs, biased in class A
Hand built in the UK
Specifications
CD Player
Distortion : 1kHz < 0.0015% (-96dB), 10kHz < 0.003% (-90dB)
Frequency Response (20Hz–20kHz) : +/- 0.2dB
Pre-amplifier
Frequency Response (-3dB) : < 2 Hz - > 280 kHz
Distortion (1kHz) : <0.0008% / 102dB
Input sensitivity for 2V Output : Aux inputs 600mV, 3.5mm inputs 400mV
Maximum Output Level : Phono 9.2V r.m.s, XLR 18.4V r.m.s.
Overload Capacity : 13dB
Input Impedance : 14k Ohms
Output Impedance : 10 Ohms
S+N/N Ratio : IEC "A" >112dB, DIN >108dB, Wide Band >96dB
Absolute Phase : Phono Zero Degrees, XLR Zero Degrees, Pin 2 Hot
Output XLR CMRR (100Hz - 10kHz) : >60dB
Digital Input - Optical and Coaxial
Distortion : <0.001% at all supported sample rates 44.1kHz, 48.0kHz, 88.2kHz, 96.0kHz, 192.0kHz* (*192kHz supported via coaxial input only)
Digital Input - USB
Distortion : <0.001% at all supported sample rates 44.1kHz, 48.0kHz, 88.2kHz, 96.0kHz, 176.4kHz, 192.0kHz, 352.8kHz, 384kHz
Supported Wordlenghts
Optical and Coaxial : 16bit and 24bit
USB : 16bit, 24bit and 32bit
Digital Input - DSD
Frequency Response -1dB : < 10Hz – 50kHz
Supported DSD Rates : Windows DSD64, DSD128 and DSD256, MacOS DSD64 and DSD128
Physical
Dimensions (HxWxD) : 90 x 445 x 330mm
Weight : 7kg