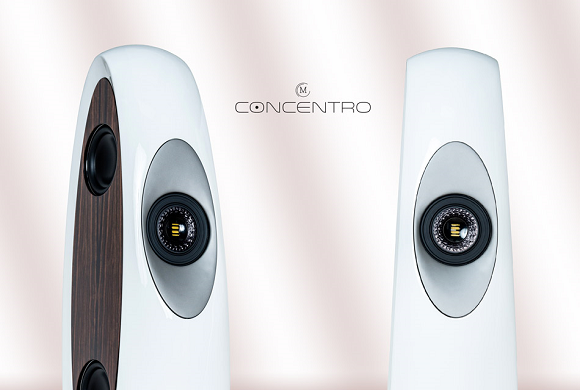 Sophisticated aluminum woofers: Through the use of aluminum, resonances that affect the linearity of common paper cones can be placed beyond the driver's operating frequency range.

VX-Technology: The acclaimed drive unit, which combines the renowned JET tweeter with a ring-radiator midrange driver in a concentric arrangement, provides the foundation of these speakers remarkable sound. What sets it apart is the variable X-JET suspension, hence the designation VX-JET. The thinking behind this drive unit draws from the fact that every room presents different acoustic characteristics and that the same loudspeaker will produce different results from one room to another. A mechanism on the rear of the loudspeaker allows for stepless adjustment of the entire drive unit by up to 8 mm in front of and behind the front baffle
VX-JET 5 Tweeter: Delivering true high definition sound, ELAC's JET 5 tweeter enthralls with its lightning-fast response and wide dynamic range
Concentro M:
One look tells you this is no ordinary loudspeaker. The sophisticated cabinet features curves that allow optimum propagation and dispersion of sound waves.
Is it just a bit smaller? Yes, but that's not all! The Concentro M exhibits characteristic design cues, but creates its own unique visual impact. Concentro proves that the whole can be even greater than the sum of its many state-of-the-art parts. A variable VX chassis lets you tailor the sound to your listening area, while four 220 mm woofers, installed in a pulse-compensated configuration, ensure exceptional bass delivery in any room.
Specifications

Dimensions H × W × D

1450 × 460 × 535 mm
with spikes and base plinth

Weight

ca 90 kg

Principle

4 ways, bass reflex

Woofers


4 × 220 mm Ø AS cone

Midrange

1 × 70 mm / 140 mm Ø AS-XR
honeycomb ring radiator

Tweeter

1 × JET V Core modified

Recom. Amplifier Power at Nominal Impedance

80-600 W / channel

Crossover Frequency

180 / 2,700 Hz

Sensitivity

88 dB / 2.83 V / 1 m

Nominal Impedance

4 Ohm

Frequency Range acc. to IEC 268-5

24 ··· 50,000 Hz

Nominal / Peak Power Handling

400 / 600 W
| | |
| --- | --- |
| Finishes | black high gloss, white high gloss |
| | | |
| --- | --- | --- |
| By means of an continuously adjusting knob at the rear side of the speaker the whole VX-JET driver may be moved 8 mm out (in front of the baffle) or 8 mm in (behind the baffle). By varying the position of the VX-JET, the directivity pattern of the mid-/highfrequency range can be adjusted. The result is not a variation of the sound of the speaker but a variation of the ratio between direct and reflected sound at the listening position. For the first time the VX-JET allows a constant spaciousness over a number of different rooms and listening distances. | | |
| | | |
| --- | --- | --- |
| Four 220 mm woofers, installed in a pulse-compensated configuration, ensure exceptional bass delivery in any room. | | |