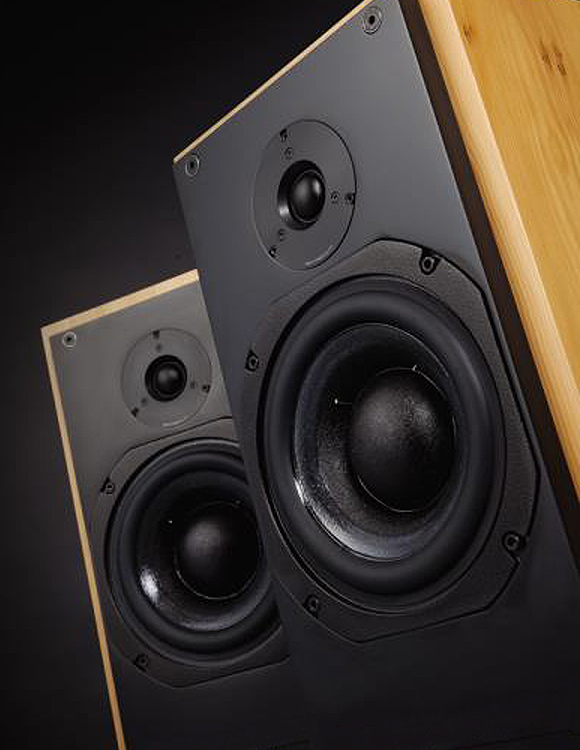 £3800
ATC SCM 20 ASL Pro

There are wide-ranging dynamic swings, crashing crescendos and a sense of authority that would be hard to get from a passive set-up at this price. It sounds immensely stable, with the speakers keeping hold of the multitude of instrumental strands with impressive composure.
Everything has a place, yet the final result never feels overly controlled. There's plenty of enthusiasm on show together with the kind of agility that's rare to hear at this level.
Like your music loud? The SCM20ASL Pros are happy to do that. They remain clear and refined to very high levels, showing little sign of strain even when pushed hard. Their neutral tonality barely strays, even as we approach their limits.
The SCM20ASLs remain seriously impressive at the low-end, delivering bass with weight and power.
We put on some Nina Simone and like the way these ATCs handle the older recording. They render the lovely, distinctive vocals with power, subtlety and real finesse, the ATCs' innate transparency revealing every nuance.
Verdict: By high-end standards, these ATCs are terrific value. Getting standmounters and four power amplifier channels of such a high standard is likely to cost a lot more than this. Get past the functional appearance and you have speakers with a performance of rare quality.
For: Excellent resolution, Strong dynamic expression, Secure rhythmic drive, Comfortable at high volume levels, Flexible in use, Fine build
ATC SCM 20 SL

Thoroughly tuned, the sound that does not lose the coolness is attractive, so it presents accurate point of sound based on delicate sound and solid middle / low range without prejudice to specific genre. You can also expect a grandeur and a deep bass that is as big as a big one.
The new SCM20 PSL has been recognized for its value in the market for the book-shelf speaker and has a long-standing basis as a standard model, as the new tweeter has been improved to better respond to high-quality playback environments. It is indeed ATC's core bookhelf speaker.
ATC SCM 20 SLT

First of all, ATC 's SCM20 PSLT is recommended for speakers. This product is a tortoise version of ATC's representative book-shelf speaker SCM20.
As a reference, ATC SCM20 is always selected as a standard speaker of the bookshelf speaker. It is recognized as one of the most outstanding standard speaker which is recommended without any hesitation.
The ATC SCM20 PSLT is full of masculine images based on a traditional enclosed, rugged enclosure, and has a bargain base that can not be easily tamed by ordinary amplifiers. Basically a two-way system. The most noticeable thing is the 6-inch type super linear magnet driver, which is a key component of ATC and a source of strong bass. As the weight of this unit is more than half of the speaker weight, it plays a central role in reproducing deep bass and dynamic midrange.
There is a sound that does not lose the coolness that is thoroughly monitored and tuned, and there is no prejudice to a specific genre, but there is a long term which expresses the sound of the sound source without coloring.
ATC SCM 20 SL

This long-established loudspeaker has been subject to numeorus refinements over the years, most notably ATC's 'Super Linear' magnet technology, which inhibits the generation of eddy currents within the motor.
It has bass to die for. It was clearly on a diffrent plane from the rest, in the explicit way it gripped the bottom end and drove through the musical message.
It would be very easy to fall in love with this main driver. It's extraordinarily clean, with a tight dynamic grip that seems to enhance voice articulation substantially.
ATC SCM 20 SL

I've written about this speaker on and off over the year and I ultimately awarded it a Golden Ear Award.
The two-way, sealed-enclosure compact continues to impress me with a combination of midrange dynamics, natural musical timbres, and surprisingly realistic mid-bass structure.
It has an unapologetically forward and clinical presentation that might be off-putting to audiophiles of the laid-back presentation. But I don't find "laid back" very persuasive nor do I believe music is typically recorded that way.
ATC SCM 20 SL

The ATCs excel in the midband and treble, delivering clean, detailed, undistorted sound at high levels, enough to appease the most critical sound engineer while at the same time avoiding any fatigue-inducing 'edges'. This means that either the professional or the civilian can listen to the ATCs for hours on end without inviting earache.
Vocals, particulary those with lots of character like Leon Redbone's or Willy de Ville's, are reproduced in such a lifelike manner that the net result is an above-average number of goose bumps.
What ATC has done is endowed the SCM20 with dynamic capabilities which are found only in massive or expensive systems. That exceptional cone travel of 40mm, the ferro-fluid cooling, the watch-like build tolerances and the bomb-proof enclosure combine to provide the dynamic capabilities which allow the SCM20 to play loud without compression and without blurring any low level information.
ATC SCM 20-2 Active

The timbre they reproduce isn't dependent upon listening to "safe" recordings at one volume level. Some speakers do timbre well within a particular, limited dynamic range, but if you change the volume level you also change their character. In this latter instance, timbre is pinched, like toothpaste emptying the fullness of a tube, or precarious and strained like standing on your "tippy toes" as the volume or dynamic swing of the music changes. Not so ATC speakers.
What ATC speakers do so well is to allow each instrument the sonic space to swing at its own pace or level, while having the control to allow each instrument to maintain, simultaneously, their own timbre and dynamic swing.
Bass is clean, tight and really fast. Some recordings might lead you to think the 20-2As lack a bit of bass, largely because it is so tight. You'll not hear billowing bass.
There isn't a correct or incorrect seat to hear timbre properly. Nearly any seat delivers a realistic rendering of timbre not just the sweet spot. And this is part of what makes listening through ATCs a delight.
ATCs do their thing with all genres with aplomb, like a smart high school student doing basic "multiplication tables;" they stay on track no matter what's thrown at them. You'll notice that the upgrade path for many ATC owners is to a bigger speaker, not a different brand.
It is a bit ironic that ATCs are so hard to find domestically, when they're so widely used by the people who record and make the music you listen to. Recommended? Absolutely. Larry Cox
ATC 20 SLT Active

I had immersed myself thoroughly in active operation for several days and this was no hardship as I revelled once again in the clean response of ATC's remarkable midrange dome, which retains its unusually constant dispersion pattern although here it is part of the main driver.
Piano, as usual with ATC designs, appeared solidly at the end of my room and the wizard Alfred Brendel gave me one of his rare excursions into Bach.
The result was exactly the same: a clear victory for the active version... On the present evidence if you are equipping or re-equipping your music room with a system of some class ATC can make a good case for investigating the active approach.
ATC SCM 20 SL Features:
9kg optimised short-coil/ long gap motor assembly
In-house, hand-wound precision flat wire coil
Flat impedance curve allowing easy load for amplifiers
The hybrid design incorporates a 195mm bass cone on to which is grafted a 75mm soft dome.
The magnet assembly utilises ATC's unique "SL" technology which greatly reduces distortion in moving coil drive units by a very significant 12-15dB (3rd harmonic). To minimise Time Domain Distortion both dome and cone are made from acoustically "dead" polyester wave material doped with ATC's own formulation
Not only does the SCM20SL reproduce bass with remarkable articulation and authority, it also has outstanding mid-band clarity, incredible dynamic range, and awesome power handling
| | |
| --- | --- |
| | |
| 25mm Dual Suspension 'S-Spec' Tweeter | 195mm 'SL' Super Linear Mid/Bass |
Specifications
Drivers: LF 195mm Super Linear, HF 25mm Dual-Suspension 'S-Spec' tweeter
Amplitude Linearity ±2dB: 70Hz–17kHz
Frequency Response -6dB: 60Hz – 20kHz (freestanding, no room gain)
Matched Response: ±0.5dB
Dispersion: ±80° Coherent Horizontal ±10° Coherent Vertical
Sensitivity (sine wave): 85dB @ 1W @ 1m
Max SPL: 108dB
Crossover Frequency: 2.8kHz
Connectors: Binding Posts/ 4mm banana plugs, bi-wire
Recommended Amplifier Power: 75-300 Watts (see ATC P1, P2, SIA2-150 Mk2)
Nominal Impedance: 8 ohms
Cabinet Dimensions (HxWxD): 440 x 239 x 333 mm
Weight: 22.7kg