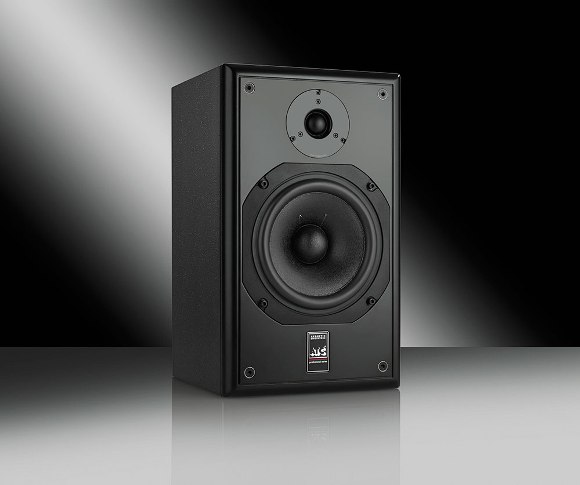 £1485
ATC SCM 12 Pro

So what do the ATC SCM 12 Pros sound like? Very, very good. They excel in dynamic stability – loud things go loud without treading all over quiet things, and if your percussionist likes sly effects and cheeky delicacies, you will hear them. If your drummer mixes rock thunder with jazz accents you will smile – and if she makes it swing you will hear it swing. The beat tightens and rhythmic intentions become clear. Layers in EDM will be laid bare, synth tones revealed, backing vocals resolve out of the soup of lesser systems.
The bottom-end is a lesson in control – less is more when bass has actual notes, and the notes have actual character! But it is the mid-band clarity that stands out for me – vocals just sound more ... more like the singer, and everywhere a clarity that makes much of the competition sound veiled.
"I have been massively impressed by the SCM 12 Pro – defying mere fashion it's an evolutionary product from a firm that refuses to compromise engineering decisions for marketing acceptability. They are professional tools designed for a working studio environment. The finish is utilitarian but the sound extraordinary, and if you need compact monitors that tell the unvarnished truth about your audio, start here." BBC engineer, Alistair McGhee for Audio Media International magazine
ATC SCM 12 Pro

Finding a path through all the conflicting constraints when designing a monitor is akin to making the pieces of a jigsaw fit together, and when you get it right, everything snaps into focus. The SCM12 Pro had that from the very start.
The foundation of the SCM12 Pro is its low-frequency performance: typically closed-box with its lack of overhang and reassuring security of pitch, whatever the volume level, but with the added quality that comes from driver engineering that's a level or two above run-of-the-mill and can play surprisingly loud.
But it's not just at the bass end where the SCM12 Pro excels. It has a natural, uncoloured, 'hear-through' mid-range quality and unforced detail in the way it presents high-frequency information, which means audio is reproduced with the minimum of speaker artifacts imprinted upon it.
Stereo imaging was well focussed with good depth, and there were no embellishments or attention-drawing emphases anywhere, just accuracy and consistency. It's exactly what's needed from a mix tool.
"As you can probably tell, I really like the SCM12 Pro. I think it's a genuinely fine nearfield monitor, and given the relatively low price for the level of engineering involved, it is something of a bargain." Phil Ward, Sound on Sound Magazine
ATC SCM 12 Pro: high performance nearfield passive 2-way studio monitor
As an all-new design, the SCM 12 Pro proffers ATC's acclaimed performance at a lower price point without compromising component quality and achieves this in a more compact, installation-friendly footprint ideally suited to nearfield monitoring as well as multichannel music and post-production applications.
"Anyone who has been waiting for an ATC nearfield with a smaller footprint, that is more easily installed, or that is more affordable, yet still delivers undiminished ATC performance, then the SCM12 Pro could be for them." So says ATC Technical Sales Manager Ben Lilly, before adding: "ATC R&D Manager Richard Newman has poured the same knowhow, time, and passion into this new model that has made the rest of the professional product line so successful. Users will find that productions completed using the SCM12 Pro will translate beautifully to other systems and that their incredibly low distortion makes listening to them a pleasure — even after long hours in the studio. At under £1,150.00 per pair (ex VAT), they may prove ideal for those seeking to upgrade ageing, hard-to-repair passive studio monitors."
Though the SCM 12 Pro is the most affordable model in the professional range of loudspeakers, the monitor makes use of the ATC's celebrated drive units for both the mid/bass and tweeter, both being meticulously hand built at the UK facility.
ATC SCM 12 Pro Features:
Compact high performance 2-way studio monitor
Ideally suited to:
– critical near-field listening applications in all control rooms
– LCR surround monitoring in small-to-medium control rooms
Proprietary ATC 195mm CLD midbass
Proprietary ATC 25mm Dual Suspension Dome tweeter
6 year warranty
| | |
| --- | --- |
| | |
| 25mm Dual Suspension Dome Tweeter | 195mm CLD Mid/Bass |
Specifications
Drivers: LF ATC 195mm Constrained Layer Damping (CLD) (SB50-150CLD 8 Ohm), HF ATC 25mm dual suspension Soft Dome (SH25-76 6 Ohm)
Amplitude Linearity ±2dB: 80Hz – 16kHz
Cut-off Frequencies (-6dB freestanding, no room gain): 56Hz – 22kHz
Dispersion: ±80° Coherent Horizontal, ±10° Coherent Vertical
Maximum Continuous SPL: 108dB (per pair @ 1m)
Crossover Frequency: 2.2kHz
Recommended Power Amplifier: 75 to 300 Watts
Nominal Impedance: 8 Ohm
Connectors: Binding Posts/4mm Plugs, bi-wire
Cabinet Dimensions (HxWxD): 400 x 238 x 235mm
Weight: 11kg (per cabinet)
| | |
| --- | --- |
| | |
| Datasheet | Manual |