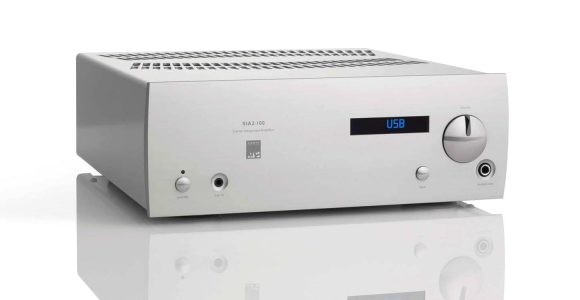 £2600
ATC SIA-100

Speaker matching shouldn't be an issue thanks to the SIA2-100's claimed 100W per channel output, which is based around a Class AB discrete MOSFET design drawn from ATC's higher-end active loudspeakers, with two pairs of transistors per side.
Via the supplied remote, the SIA2-100's large volume dial is fantastically responsive, making my reference Musical Fidelity M6 preamp seem frankly lethargic in comparison.
And lethargy is not a term you'd apply to this amp's sonic performance. Feeding it a 24-bit/96kHz file of Nirvana's Lounge Act from the band's era-defining Nevermind album via my windows laptop running JRiver into the ATC's USB socket, gets to the heart of what this amp does best. Butch Vig's production is laid bare with effortless transparency, highlighting his clean but not overly polished studio wizardry, which helped this album transcend the underground to mainstream without being perceived as 'selling-out'.
Putting this hi-res version through its paces really underlines the quality of the DAC nestled within the SIA2-100, allowing the amp to get out of the way and let the music do the talking by presenting it through an honest and uncoloured musical window. Krist Novoselic's opening bass line sounds fast, textured and buoyant, with the amp driving my Dynaudio Focus 260 loudspeakers to set the scene for Kurt Cobain's visceral lead guitar chords, as they cut through the air, taking no prisoners. This track also highlights how well the ATC handles dynamic swings, with the song's pace and energy never sounding anything other than full-throttle throughout.
Despite its modest appearance, this really is a lot of amp for the money. It's clear ATC has engineered the SIA2-100 to strike a difficult balance of accuracy and neutrality without compromising in the musicality stakes. Put simply it's an underrated mid to hi-end bargain.
ATC SCM 11, SIA-100, CD2

The ATC Compact Audio System offers exceptionally high quality and performance.
SCM 11: Exceptional speakers hold their own against far more expensive. Kudos to the SCM11 speakers for their poise, detail, and excellent pitch definition.
SIA2-100: Integrated amp is more powerful than its 100-watt rating indicates. Exceptionally cool operation.
CD2: Very sweet and detailed sounding CD playback.
Premium construction and exceptional sound justify the system for use in smaller to moderately-large rooms or for the consumer wanting higher than average quality. This is not a typical "lifestyle" system.
The ATC Compact Audio System excelled with this music without even breaking a sweat, and at volumes significantly higher than my normal listening levels.
Surprising bass even in a larger room.
The midrange-weighted sound of acoustic guitars doesn't challenge the deep bass or high treble of a stereo the way that more complex music might, but if a system can't get the midrange right, the rest of the frequency spectrum is academic. The ATC Compact Audio System gets the midrange right!
The ATC Compact Audio System is a very high-quality system that should satisfy for decades and decades to come. You get what you're paying for with this system, and if you can afford it, I recommend the ATC Compact Audio System without reservation for small to medium-sized rooms.
ATC SCM 7 & SIA-100

SCM 7:

Rhythmic agility and tonal purity count here – and the little ATC has these in spades
The guitar work was marvellously sharp and vital, with the horns cutting through in a vibrant and visceral way. Further down the scale, and the bass sounded practically indestructible. Feed this little loudspeaker with Aura by Belfast-raised DJ duo Bicep, and you'll soon have the woofer dancing in and out athletically, showing its impressive excursion.
Massive Attack's Angel maintained its underlying menace thanks to the grumbling sub-bass work, without losing any clarity further up.

SIA2-100:

I hooked up ATC's own SIA2-100 integrated amplifier to the SCM7s, with interesting results. I heard more immediacy in the midband – the already impressive imaging was even more dialled in and focused.
The guitar had a warm resonance and lifelike clarity, while Joni's high range vocals stayed sweet and bright without ever fatiguing the listener.

The standout feature of this system is its excellent handling of both the time and frequency domains. By this I mean it is rhythmically fast yet tonally smooth.
Factor in the fine soundstaging – where every aspect of the multi-layered mix was placed in space perfectly – and you have a serious-sounding system.
The ATC SIA2-100 amplifier and SCM7 loudspeaker combination is a compact system that punches way above its weight – indeed it has incredible presence given its small stature. This dinky duo is tonally balanced, rhythmically articulate and has precise stereo imaging too.
You will be treated to textured low-frequencies delivered with conviction and realism, a midband of clarity and focus, and smooth yet mustard-keen tweeter.
ATC SIA2-100 & CD2

Both units are handsome and well made. The slight curve to the side cheeks is a rare flourish that looks elegant and the rest of the product feels extremely well assembled.
I initially focus on the SIA2-100. Connected to Bowers & Wilkins hugely revealing 805 D3 standmount from this month's Beautiful System (p88) and an SOtM sMS-200 Neo network audio player (HFC 449) running into the USB port, it impresses from the off.
ATC has never been about anything other than tonal accuracy and the new amp doesn't let the side down. Familiarity by Punch Brothers from The Phosphorescent Blues album feels utterly and unambiguously real. The pared-back instrumentation alternates with big but brief orchestral interludes that explode into life and vanish as fast as they appeared. Lead singer Chris Thile's vocals have the weight and space they need to be the soul focus of your attention.
One consistent aspect of the performance is that the SIA2-100 doesn't seek to modify the material it plays.
The assurance with which it hammers through the crescendos of the track is notable and the composure – even at anti-social levels – impresses.
The CD2 silver disc player has a genuinely lovely sound that flatters discs that need to be flattered and gives free reign to those that don't.
The forgiving element to the CD2's presentation means it will handle a collection of rough diamonds with an even handedness and consistency that rivals can lack.
As a pair, this is a fabulous combination that manages to thrill and cosset in equal measure. ATC doesn't introduce electronics very often, but these two are worth the wait and worthwhile seeking out.
ATC SIA2-100:

LIKE: Powerful, even handed sound; good spread of inputs; build
WE SAY: A capable all-round amp that offers excellent performance with a wide range of setups

ATC CD2:

LIKE: Wonderfully sweet and lively presentation; build
WE SAY: A genuinely engaging disc spinner that will get the best from any CD collection
ATC SIA2-100

We play Young Guns' Memento Mori, and the ATC immediately grabs our attention. There's a real sense of vim and vigour to the way the track is delivered. There's pace and agility to the drums as the high hat gallops along, while the bass guitar bobs and weaves in the background.
The ATC communicates the path and position of all the instruments with impressive precision. Both high and low-level dynamic shifts can be heard and it all adds up to an enthusiastic sound capable of piquing your interest.
Its immensely clear and transparent character allows the emotion of the track to wash over you. There's a fine level of detail in each carefully considered stroke of the piano keys. Her voice and its accompanying echo are sweetly rendered.
Such is the ATC's transparency, it pulls no punches with poorly recorded tracks. If dynamics are crushed and compressed or highs are particularly harsh, the ATC doesn't gloss over it.
Wonderfully transparent and honest performer

FOR

Neutral, balanced sound
Impressive agility
Loads of detail
ATC SCM 7, SIA-100 & CD2

The drivers are of ATC's own design, the 25mm soft-dome tweeter having an alloy waveguide to control dispersion and the 12.5cm mid/bass unit having an integral version of the company's famous soft mid-range dome. They may be tiny but they still weigh 7.5kg apiece.
Balance and focus are just what this system has, whether playing CDs or streaming music via a computer – or, as in this case, from the Melco N100 also reviewed this month as well as my usual Mac mini.
Even more surprising is that the SCM7 speakers, driven by the SIA2-100amplifier, deliver not just fine detail and a solid stereo image but also powerful bass way beyond what one might expect from enclosures so small. There's real texture and conviction down there, too, making orchestral double basses and the left hand of a pianist equally striking.
Above all, it's the integration of this set-up that's its most appealing aspect. The drivers in the SCM7 work together seamlessly, the amplifier has more than enough power, control and definition to ensure they behave themselves without holding back on musical flow and even the CD player makes a very strong case for the continued existence of the silver disc.
Buy it for its solidity, its style or even the 'all made in Britain' thing: however you look at this ATC system, it's remarkable value for money.
* * *
ATC SIA2-100: compact, high power output integrated amplifier with on-board DAC, hand built in the UK
Compact in size yet offering high power output and exceptional resolution, this integrated amplifier with on-board DAC is ideally suited to driving ATC's small and mid-size passive loudspeakers and a very wide range of loudspeakers from other manufacturers. Understated styling makes it easy to integrate with partnering equipment whilst its small footprint occupies very little space in the home.
Whilst designed from the outset to be partnered together, both the CD2 and SIA2-100 may also be purchased individually to suit customers' specific system requirements. Either way, these outstanding components offer music lovers an exceptional combination of performance and functionality.
ATC has grown to become one of the very few manufacturers successful across both domestic and professional audio. By selecting ATC you join a group of music lovers, professional audio engineers, educators, studios and musicians across the world that understand the value of the engineering that goes into every ATC product.
ATC SIA2-100 Integrated Features:
ATC Discrete MOSFET Output Stage with 100W per channel, both channels driven (continuous on 8 Ohms, 1kHz)
3 x digital inputs: USB, Coaxial, TOSLINK
2 x line level analogue inputs
1 x analogue line outoput
Premium AKM 32-bit DAC
USB digital input supports up to 384kHz PCM data, native DSD256 support via PC and up to DSD128 via Mac
Headphone amp featuring discrete output stage
6 year warranty
Hand built in the UK
Specifications
Output Power into 8 Ω: 100W per channel (continuous, 1kHz, both channels driven)
Line Inputs: Two, stereo (one with additional front panel 3.5mm jack)
Line Input Sensitivity: 500mV
Input Impedance: 13k8 Ohms
Line Outputs: One, stereo
Overload Capacity: 13dB
Line Output Impedance: 10 Ohms
Frequency Response (-3dB): < 2Hz – 250kHz
Total Harmonic Distortion: 1kHz <0.0015% (-96dB), 10kHz <0.002% (-90dB)
Crosstalk: >80dB (10Hz – 20kHz)
S+N/N Ratio: IEC "A" > 112dB, DIN > 108dB
Dimensions (HxWxD): 113 x 315 x 315mm (dimensions exclude rear panel connectors)
Weight: 9.70kg
DIGITAL INPUTS – COAXIAL & OPTICAL
Distortion: 1kHz <0.0015% (-96dB ), 10kHz <0.005% (-86dB)
Frequency Response (+/- 0.1dB): 20Hz – 20kHz
S+N/N Ratio: >100dB (IEC "A")
Word Lengths Supported: 16 – 24 Bit
Sample Rates Supported: 44.1kHz, 48kHz, 88.2kHz, 96kHz, 192kHz (192kHz supported via coaxial input only)
DIGITAL INPUTS – USB (PCM)
Distortion: 1kHz <0.0015% (-96dB ), 10kHz <0.005% (-86dB)
Frequency Response (+/- 0.1dB): 20Hz – 50kHz
S+N/N Ratio: >100dB (IEC "A")
Word Lengths Supported: 16 – 32 Bit
Sample Rates Supported: 32kHz, 44.1kHz, 48kHz, 88.2kHz, 96.0kHz, 76.4kHz, 192.0kHz, 352.8kHz, 384.0kHz
DIGITAL INPUTS – USB (DSD)
Frequency Response (+/- 0.1dB): 10Hz – 50kHz
S+N/N Ratio: >100dB (IEC "A")
DSD Rates Supported: Windows DSD64, DSD128, and DSD256, MAC OS DSD64 and DSD128