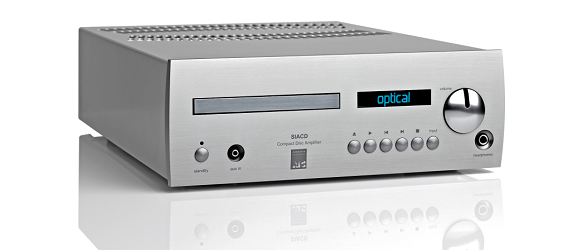 n/a
ATC SIACD

The power supply unit is built on a massive toroidal transformer and filter capacitors of the bank assuming the total capacity of 40 000 uF... In the output-stages each channel uses two pairs of field-effect transistors, very intricately mounted on horizontally placed radiator.
Jamaican rhythms and classical jazz improvisation by themselves do not contribute to the fortress templates, and so vividly and expertly executed, it seems, does cause an increase in the production of endorphins and dozens of other neurotransmitters that induce with involuntary smile snapping his fingers to the beat, while stamping and shaking his head.
I connect to the digital coaxial input of external transport, comparable in price to the set, and I understand that the difference st. And it is clearly not in favor of external solutions.
Conclusions: ATC SIA CD - uncompromising system of uncompromising manufacturer. Inheriting all the best that the British had accumulated over four decades, they have created another masterpiece. The device, whose appearance is deceptive as well as the appearance of most products from ATC, where the cornerstone put functional.
ATC SIACD & SCM 11

ATC is rarefied audio; only 50 per cent of its production is for consumers, and 80 per cent of that is exported. Oddly, though, ATC equipment is not that expensive – it is knowing it exists that's the clever bit.
Founded in 1974 by Australian jazz-pianist and engineer Billy Woodman, ATC is seriously old school. Its philosophy is one of "neutral fidelity", based on the belief that hifi equipment shouldn't colour the original studio sound.
You can hear the attention to detail. Listening to the SCM11 speakers, the astonishing clarity, separation and bass heft quite knocked me over.
"It's the first time I've heard those tracks properly since 1995," she said. "It's like being back in the studio." Which is, of course, exactly what ATC had in mind.
ATC SIACD

In every case, teh SIACD is capable of showing that the built-in amplification here is of quite remarkable quality, not only in its openess and solidity but in the power and reach of its bass, and the surefooted way in which it grips the speakers to which it's connected.
That low-end ability plays a major part in the good impression the ATC creates from the start, its extension being matched with speed and deft control, but across the frequency range this system is striking and demands high-quality speakers if it's to be heard at its best.
This is a no-compromise "music centre" for those willing to look beyond the mini-system norm, handbuilt in Britain, backed with six years warranty and capable of delivering the kind of sound for which you might expect to need a separate CD player, preamplifier and power amp.
* * *
ATC SIACD Features:
New class AB "grounded source" power amp stages offering class leading performance
USB, coaxial and optical inputs
2 x line level analogue inputs
1 x analogue pre-out
On-board CD Player
Front panel mounted headphone amplifier
Black and Silver anodised finish options
6 year warranty (CD mechanism covered by a 12 month warranty)
Hand built in the UK
Specifications
Integrated Amplifier:
Power Output (Continuous Av, 8 Ω, 1kHz, both channels driven): 100W
Line Input Sensitivity: 640mV
Input Impedance: 13k8 Ohms
Frequency Response (-3dB): 2Hz – 250KHz
Total Harmonic Distortion (8 Ohms, -1dB below full power): 1kHz <0.0015% (-96dB), 10kHz <0.002% (-90dB)
Crosstalk (10Hz – 20kHz): >80dB
S+N/N Ratio: >100dB (Wide band) >110dB (DIN) >115dB (IEC"A")
Absolute Phase: Phono Zero Degrees
CD Player:
Distortion: 1kHz <0.002% (-94dB), 10kHz <0.003% (-90dB)
Frequency Response (+/- 0.1dB): 20Hz – 20kHz
S+N/N Ratio: >100dB (IEC"A")
Digital Inputs – Coaxial & Optical:
Distortion: 1kHz <0.0025% (-92dB), 10kHz <0.004% (-88dB)
Frequency Response (+/- 0.1dB): 20Hz – 20kHz
S+N/N Ratio: >96dB (IEC"A")
Supported Word Lengths: 16 to 24 Bit
Supported Sample Rates: 44.1kHz, 48kHz, 88.2kHz, 96kHz, 192kHz
Digital Inputs – USB:
Distortion: <0.005%
S+N/N Ratio: >96dB
Supported Word Lengths: up to 16 bit
Supported Sample Rates: 32kHz, 44.1kHz, 48kHz
Dimensions(HxWxD): 112 x 315 x 425 mm
Weight: 9.6kg