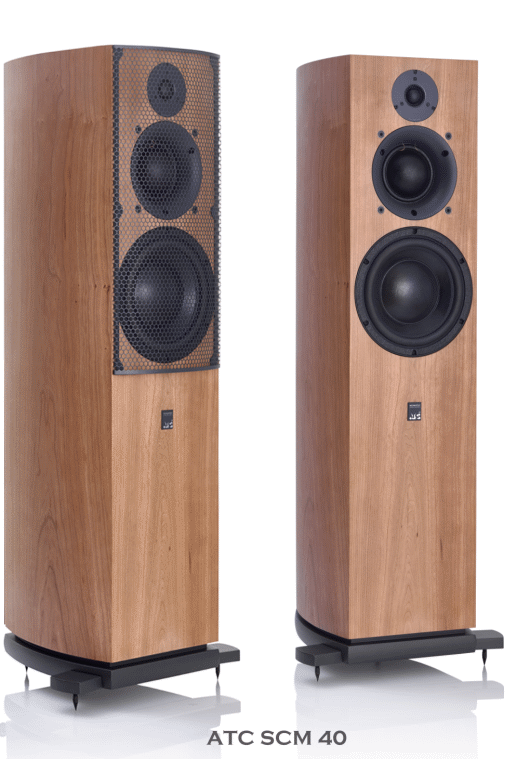 £4200
ATC SCM 40 Active

The lower frequencies arrive at your ears at the same time as the mids and top, so that when listened to as a whole, you're rewarded with a wonderfully tight, powerful, engaging and emotive presentation.
The ATC created a more precise musical vista thanks to its impressive talent for timing and resolution.
The advantage of this sizeable active speaker became grin-inducingly apparent, as waves of subsonic fun thumped and growled through my listening space. Such seismic activity made me feel like a kid discovering sweets for the first time, but I couldn't help but also be impressed by the amount of control that this speaker displayed. Not only was I getting a healthy punch in my chest, but there was no sloppy overhang or blurring..
THE VERDICT Talented, dynamic, and fun, with a soundstage wide and deep enough for you to forget about the cabinets standing in your room, ATC's SCM40A makes a great case for itself. ATC's pro-audio DNA shines through, with a musical performance offering fresh insight and impact to pieces you thought you already knew inside out. This speaker presents orchestral music with scale and finesse, yet you can turn things up to hooligan levels without fear of the drivers letting go and musically losing control. This is a superb active loudspeaker package, especially when you remember that you just need to add a good quality preamp and source to have a full system. We loved its passive sibling, but the active version is on another level and is cracking value for money too.
ATC SCM 40

It's the sort of speaker that – once you've heard it – reminds you what all its price rivals are getting wrong. It is exceptionally good at capturing the music's natural timing – for a box speaker of this price – and the result is a gutsy, feisty and gnarly sound that's about power and poise.
It's gutsy, visceral, powerful, yet doesn't sound in the least bit overblown; it can start and stop with great alacrity; there's no sense of overhang. Instead, it integrates perfectly with what's going on further up the scale. The result is a sensation that's hard to describe, but when you switch over to one of the SCM40's reflex-loaded rivals, it almost seems like someone has added a touch of reverb to the recording, especially lower down. You lose that crunchy, tightly etched quality that's unique to a properly executed infinite baffle box loudspeaker. This is a joy to behold, and of course, is clear to hear with every type of programme material you choose to play.
ATC's SCM40 will either confirm your prejudices about 'pro' speakers or confirm your prejudices about domestic ones. Personally, I adore it for its accuracy, speed and insight – the way it strings the rhythmic elements of the mix together, punching out the music's emotion in a marvellously unconstrained way. You might call it a monster of rock, but it conveys the power and majesty of other musical genres
ATC SCM 40

Klang: absolute Spitzenklasse
Preis/Leistung: sehr gut
Speakers from ATC are found in the world known recording studios. With the SCM40 there it is the legendary technique of the English also for home use.
The CD contains a selection of top-class jazz pieces that demand a lot of musical sense from a loudspeaker. With Andreas Aarum's Master of Disaster, the SCM40 had to prove that it was up to this standard. The furious piece, however, seemed to please her well, and her well-dosed and absolutely precise bass reproduction gave the music an extra boost. Equally playful, she also appeared at See Me by Jean Hubert, whose voice made her shine in full timbre splendor.
And above all, it is one of the few loudspeakers that sounds good both close to the wall and free-standing.
Incorruptible precise speaker with outstanding bass reproduction and particularly homogeneous sound character, they do not hide the recording studio roots. Especially in the disciplines of timing, transparency and illustration they are far ahead.
ATC SCM 40, P2 & CA2 Mk2

They still exist, the long-established companies that have enjoyed an excellent reputation among professionals and music lovers for decades and have escaped the fate of being pushed by the lifestyle brand by some private equity firms and subsequently being hogged away with maximum returns. For example, the English company ATC
Sonically, the ATC-Kombi does great things. At what sound this system offers, it can safely measure with systems several times more expensive. On the turntable is Zaz's album "Zaz". Often the Frenchwoman is referred to as modern Edith Piaf. Even if I did not sign that, there are - to the luck of Mrs. Geffroy alias Zaz - some differences. However, as for the energy and joy she seems to be spraying while singing, she is really reminiscent of Edith Piaf. And this radiance, this joy the ATC station wagon brings wonderfully authentic.
Add to that a truly phenomenal resolution and a tonal balance, which immediately make it clear that here professional monitors were the inspiration for the development. Medium and treble are definitely right, really good. And the bass? Playing in our rather large listening room sovereign the advantages of the closed housing and shows wonderfully variable, controlled and, where necessary, quite powerful.
The electronics contribute their part: Neither the preamplifier nor the power amplifier show weaknesses, but play with the speakers like a piece.
Conclusion: For a long time we did not have a chain in the listening room that offered such an extremely good price / performance ratio as the combi preamplifier CA2 mk II, power amplifier P2 and speakers SCM40 from ATC. Everything is just right here: elaborate technology, clean measured values ​​and the most important thing - an absolutely outstanding sound.
ATC SCM 40 Active

Every crack and crunch the synthesisers make extending your amazement of their capabilities.
As sure to that soul churning experience you get after listening to speakers of this quality, the pleasing mouth popping sound as you turn them off if the final peg of thinking, 'God I want a pair'. 13th Note performers unhesitatingly and unflinchingly!
ATC SCM 40 Active & CA2 Mk2

Anyone who is enthusiastic about large studio monitors often faces the problem of convincing their spouse of setting up wide boxes in the living room. The solution could lie in an attractive, relatively close-to-the-wall floorstanding ATC loudspeaker.
Easily bent into the listening position, the boxes are characterized by a completely homogenous, sculptural reproduction that never looks artificial. The ATC acts as a performer of the given and only provides extravagance if they are included in the recording.
Subtle sound textures and complex orchestral interludes never get in each other's way and are fully reproduced: the flow of the breeze that goes through the flute, the characteristic sound signature of the violins, the complexity of the orchestral stage. This is done with an accuracy that does not noticeably diminish even when the stepless volume control of the pre-amplifier ATC CA2 is at two o'clock.
The SCM40A takes on storm and urgency with stoic serenity. The longer the active members stay with me, the more my hearing involuntarily adjusts to the quality and artistic interpretation of the recording.
This is studio monitor precision at it's best, combined with the living room-friendly form of a neat, state-of-the-art loudspeaker, which plays sovereignly but never superficially spectaculary, in an informal, self-evident manner.
How carefully the ATC captures the special mood, with a generous applause and donation.
It remains to be added that the ATC preamp borrow also features an excellent phono section for CA2, and the settings are just right for my low-output MC Valencia from Ortofon
The ATC SCM40A is simply world-class when it comes to playing records, and the rest is a matter of personal concern: for some listeners, the self-contained Briton will initially seem unspectacular, and for heavy metal fans there will be elsewhere more Sause at a lower price The SCM40A is by no means designed as a sound reinforcement instrument for level orgies, but as a very serious sound transducer for the finest in music with all its facets and sovereign naturalness Very well done!
ATC SCM 40 Active & CDA2 Mk2

This is a startlingly immediate system. The 44.1 rip of Emiliana Torrini's Gun has a presence and visceral 'she's right there in the room' quality to it. Her staccato intakes of breath are vivid and absolutely real, while the gradual increase in scale and volume to the track is handled with absolute imperiousness.
And the bass… the low end on offer here is exquisite. The technical arguments for why active speakers can generate better bass than an equivalent passive design are worthy and entirely accurate, but are no substitute for listening to what this system is really capable of. The sledgehammer low-end of Scratch Massive's Waiting For A Sign is simply awesome. If you want bass that you feel as much as hear, there's very little else available anywhere near this price that can out slam this setup. What sets it apart further is that there's nothing I've ever heard anywhere near this price that combines this gut-wrenching impact with the agility this system possesses. As a combo, it is utterly addictive.
The role that the CDA2 Mk2 plays in all this is subtle, but effective. It gets all of the basics right with a wonderfully linear volume control and a total absence of unwanted noise, but beyond that the quality of the digital-to-analogue section is entirely noteworthy. It takes a little time to appreciate quite how good it is because it is so natural and unobtrusive, but it allows this system to demonstrate truly lovely tonality at times.
This, then, is a rather special system even judged by the hallowed standards of Beautiful Systems. It is comfortably one of the very best implementations of active speakers that I have had the pleasure of spending any time with. It does the things we have come to expect from equipment in 2018, offering a sensible footprint, flexible inputs and elegant aesthetics. It then combines all of this with a performance that is utterly and unequivocally joyous. The active loudspeaker is no longer simply the optimal choice on paper, it's a real world champion too.
ATC SCM 40 Active

ATC specs are engineering specs, not advertising specs. The speaker is rated from 48 Hz to 22 kHz with a – 6 dB point at 48 Hz. No advertiser would quote a spec like that. It isn't the kind of hype that sells loudspeakers. Most manufacturers would simply say something like it goes to say 30 Hz and skip how far down the roll off was. It isn't a lie but it tells us little useful. Also recall I mentioned ATC calls this a 6½" woofer. Almost everyone else would call it an 8" woofer because the convention is to measure the frame size. ATC measures the diameter of the cone, the real size of the driver. You can trust people who give you facts, not hype.
ATC, unlike the majority of manufacturers, makes all their drivers. And all their employ underhung voice coils where the voice coil is shorter than the length of the magnetic gap. This is common in tweeters but quite rare in other drivers. It costs more and is a little less efficient but gives more accurate reproduction because the voice coil remains in the 'focused' part of the gap, where the magnetic lines of force are more linear even at high drive levels and/or at very low frequencies (the lines of force are less linear at the edges of the voice coil). This doesn't mean that over-hung is lousy. But if maximum fidelity is the goal underhung is the superior choice.
Adding everything together and how easily the ATC SCM40A can be used to produce a simple, elegant, high performance system this is a heck of a speaker system. And if you want a speaker system that allows great live recordings to make you think the performance is real, this is a must audition. Add a preamp and a source or two and you have a simple high performance system. The last speakers the great Gordon Holt bought for his own use were a set of ATC SCM50A active speakers because ATC speakers were among the few that made great recordings sound real. That's enough of a recommendation for me. Simplicity and performance and relative economy gives the ATC SCM40A a very, solid 2016 Most Wanted Component nomination and highly recommended!
ATC SCM 40 Active

The ATC SCM40A is the latest addition to the company's range of active floorstanders. It is an attractively slim speaker with curved sides
All three of the drive units are made in house by ATC, which has been building cone and midrange dome drivers for some time, but only developed its own tweeter in the recent past.. All three units are capable of sustaining high sound pressure levels if required; power handling has always been a strong point thanks to ATC's pro audio heritage.
The ATCs are full bandwidth speakers that have grip in the bottom end and a total absence of ventilation on the cabinet. The bass is deep, solid and, thanks to the active operation, tactile. It has a degree of solidity that makes everything feel like it's in the room, that and the ability to play at the sort of level that approaches that of live sound you get in a studio control room.
I had a lot of fun with this system and it has reignited my enthusiasm for active operation; there really needs to be more speaker systems like this. But for now the combination of NAC-N 272 and SCM40A is all the system most of us will ever need, and the best sounding three box system I've enjoyed to date.
ATC SCM 40 Active

For my taste and experience, ATC combine much of the dynamic characteristics of horn drivers, while leaving behind the shouty, cupped hands sound. Even more importantly, they also don't bleach their timbre the way horn speakers seem to do.
They also show the immediacy and speed of electrostats, if perhaps not quite as much resolution. They are, however, much more able to play loudly and dynamically than electrostats as well as having much larger sweet spots than electrostats tend to have.
Vocals are extraordinarily clear and clean—likely due to ATC's mid-dome driver which covers the range from 350Hz to 3.5kH - essentially single driver reproduction of the vocal range. With vocals produced from a single driver, performance is enhanced. The mid-dome driver did its ATC magic. Well recorded vocals have a clarity, immediacy and "speed" that few other cone driver brands have.
If you have ever hankered to crank up a song you love, there are few better speakers than the 40A for that experience. Try "Până Când Nu Te Iubeam" loud and you might find yourself laughing in a way a lower volume level won't suggest.
I like the place the 40A plays in the ATC line. It's an angel's balance of the somewhat kinder, gentler domestic line with a slice of the precision of their studio line. Absolutely recommended.
ATC SCM 40 Active

The soft dome is a revelation, especially with acoustic guitars. The romantic Mexican string style in "Puesta Del Sol" by Sean Harkness combines mellow richness with clarity. This accuracy is a hallmark of ATC.
Another instrument with excellent recreation on these floor-standers is the saxophone. John Coltrane sounds stunningly pure in "Naima."
ATC's long held reputation for accuracy is put on full display. Pick any number of popular classic recordings and the results are the same, spot-on pitch and tonal clarity.
You can voice the SCM40As to your taste with interconnects and choice of preamplifier.
If you're tired of the cable and equipment hassle, I can't suggest a better pair of active speakers than the ATC SCM40As. They produce sound well beyond what their price tag suggests, especially considering that you will eliminate at least a few thousand dollars in speaker cables and power amplifiers.
ATC SCM 40 Active

84 out of 100 points
Price / Performance: "outstanding", "Highlight"
"Active monitors are expensive, square and misshapen - so goes the stereotype. The new ATC is by contrast an elegant column speaker that brings all the virtues of the English Super monitors."
"Ultimately, transparent and high-resolution monitor in the elegant floorstanding speakers format. He plays incredibly neutral, by drawing and holographically, thereby using very precise bass and stupendous fine dynamics.
ATC SCM 40 Active

The SCM40A has three power amps (and an active crossover) in each enclosure. There's a 150W module for the bass driver, 60W driving the midrange and a 25W amplifier for the tweeter. It all comes wrapped in a solidly made, curved cabinet, finished in cherry or black ash.
The way they reproduce dynamics is excellent. They have the reach to convince with the large-scale dynamic swings of Swan Lake, punching out crescendos with enthusiasm. There's an impressive dose of muscle here, and the kind of low-end authority only really capable big speakers truly manage.
Every subtlety is sharply defined with the speakers keeping organised and controlled, yet fluid, even when the music becomes complex. Most hi-fi – even true high-end kit – has problems making sense of Radiohead's 15 Step. Not these ATCs. They take all in their stride, revealing a lovely cohesion throughout the frequency range. Resolution, timing and dynamics are all spot-on.
Terrific detail resolution; exceptional dynamics and control; composure; integration
ATC SCM 40

A reminder that so many reflex ported designs are't doing bass right.
The way it integrates its superb low frequencies with the midband is a joy; in this region it's more searching than many, but is never harsh unless the source and/or song is too. It sounds like a veil has been lifted from in front of the music and it gives an explicit insight into the proceedings.
Everything snaps into focus and arrives at the right place and time
Treble is airy, spacious and well etched. The looped hi-hats on Beatmasters Who's In The House? are crispy and scratchy, which is just how they should be
There's no gilding of the lily with the SCM40, everything is handed to you in am accurate and unalloyed way.
Given a serious source and recording, the new ATC SCM40 is superb – I know of no price rivals that give this level of accuracy, speed and insight. It strings the rhythmic elements of the mix together brilliantly, punching out subtle dynamic in a marvellously satisfying and visceral way.
It's capable of a level of transparency you normally only expect from loudspeakers at three or four times its price.
Superlative clarity; excellent phase coherence; sublime bass
ATC SCM 40

The main feature of the sound would probably be the raw speed of attack. Transients have curves so steep you wonder if ATC has found a way of achieving infinite bandwidth.
It's a realism, an honesty that tells you exactly what that session sounded like in the studio, but done with style. There's a wholesomeness to the sound, I hate that word, but can't find a better one. The sound is perfectly revealed, but never brash.
The bottom line.. I'm sold. I can't live without them. I need them in my life and will have to make the change. Putting my Living Voice OBX R2′s back in was pleasing and frustrating in equal measure. Yes, they are a lovely listen, but the lack of comparative clarity and speed is something that I can't live with. Many will disagree, in some systems the SCM40′s will sound too revealing. If the electronics are forward, they will sound forward and with this much detail that will be too much. Audition carefully, but please, do audition. In the right system, you would have to spend £10k to get anywhere close to this sound quality.
ATC SCM 40

Quality of the mid band reproduction is probably among the strongest sides in SCM40s sound identity, and this should be probably attributed to the midrange driver being used. The loudspeaker proved extremely clear and detailed though at the same time it appears that there is a character somewhat tolerant to mediocre recordings.
Musical instruments were characterized by very good presence while voices, both solo and chorus, were detailed, perfectly focused and with very good description of both the feeling of motion and the transition between different groups in the sound stage.
It is clear that the SCM40 includes some of the key elements that have made ATC especially likeable to a specific audience: It is an accurate, neutral loudspeaker with some considerable potential for high SPL listening.
We are dealing with a product designed with the discerning listener in mind. A listener with a music collection both significant in size and variable in quality, who needs to take advantage of this collection by using an all around and user-friendly loudspeaker. For anyone who belongs to this profile, the SCM40 sets -in my opinion- a reference level.
ATC SCM 40

"Class C (Full-Range) Recommended Components 2013"
The SCM 40s could play very loud without seeming to make excessive demands on any of the amplifiers I tried them with (Luxman L-505u, ATC SIA2, Leben CS600), so their 85dB sensitivity rating probably should not be a matter of concern.
I won't go on at length about the SCM 40's sound. The family resemblance to the SCM 11 was strong: it sounded like an excellent monitor speaker (which the SCM 11 is), except with more bass—and, for the price, unusually well-controlled, well-extended bass. I gather that some people hold to a stereotype that ATC speakers are for rock'n'rollers, by which I assume they mean large-scale dynamics, but also slammy bass and etched treble. Well, you can't prove that by me. Indeed, my sister-in-law listened to some Jane Monheit on the SCM 40s, then turned to me and said, "These speakers just sound 'sweet.'" I agree.
To sum up, the SCM 40 is an almost amazing value for the money. It's built in the UK by a company with as much heritage and credibility as you could ask for. As the top of ATC's entry-level line, it embodies the realestate advice about buying the cheapest house on the nicest street. Its sealed-box bass loading makes it (as far as I know) unique among relatively affordable floorstanding loudspeakers. So, if Stereophile's "$$$" code (in "Recommended Components"), indicating exceptional value, could be given to a loudspeaker that costs more than $4000/pair (which I believe it can't be), I would plaster a "$$$" right on the SCM 40's front panel.
ATC SCM 40

"Class C (Full-Range) Recommended Components 2012"
ATC SCM 40: $4000/pair–$4300/pair, depending on finish Built in the UK and representing the top of ATC's entry-level line, the SCM 40 is a three-way, sealed-box floorstander. The solid, compact (38" H by 9" W by 12" D) cabinet is handsomely finished in cherry veneer and houses the same 3" dome midrange found in ATC's most expensive speakers. Though it couldn't match the holographic spatial effects of the Harbeth P3ESR, the SCM 40 produced unusually well-controlled, well-defined bass and was always emotionally engaging. "An almost amazing value for the money," concluded JM, but cautions that it is not quite as coherent as the smaller SCM 11. (Vol.33 No.4)
ATC SCM 40

The SCM 40s' performance was excellent: a wonderful fullness in the sound of JA's solo electric bass, with well-integrated upper harmonics.
No toe-in gave a wider soundstage and sweet spot. Total toe-in gave wonderfully solid center images. Most important, toe-in or lack of same did not adversely affect the SCM 40's tonal balance; neither did my standing up vs my sitting down.
The SCM 40s could play very loud without seeming to make excessive demands on any of the amplifiers I tried them with (Luxman L-505u, ATC SIA2, Leben CS600), so their 85dB sensitivity rating probably should not be a matter of concern. On smaller-scaled music, the SCM 40s could get out of the way, if not quite disappear. John Marks - The Fifth Element #59
ATC SCM 40

And again we have to deal with the extraordinary freedom in creating high levels.This can not be described in simple words, this necessarily must be experienced. The ability to play very loud without a hint of distortion is a very interesting experience.
Fleshiness of sounds that get in the bass and lower midrange is simply amazing. Clean bass issuing from the sealed enclosure makes us think the reason why almost all manufacturers worship so much the vented columns. Stability offered by the bass foundation is simply not to be underestimated. Like this should play all the columns of ambitions.
The juiciness that acoustic instruments are receiving, the authenticity of the sound of piano, the vocal performances are gaining credibility as an authentic tone until one wants to go to concerts just to see if music can sound better. And most interesting is that all this is achieved without the feeling of warming the sound. Juiciness and midrange definition makes the sound very emotionally engaging without a hint or impression that it is luscious.
I am very glad that there are such columns as ATC. Good British school, which leads to believe that the search for the perfect sound makes sense.
ATC SCM 40

Listen to The Rolling Stones' Monkey Man and you can add the words 'dynamic', 'detailed' and 'subtle' too. The ATCs have the incontestable authority to take the song by the scruff of the neck and bring it bounding to life.

The SCM40s enjoy crisp timing, an expansive, explicit soundstage, and fine stereo focus.
Low frequencies are deep, taut and responsive, the midrange occasionally torrential in the amount of detail and expression it delivers, and percussives at the top end shine benignly.

This winningly even and musical tonality is apparent whether playing small-scale, subtle recordings (when the ATCs sound like they've shrunk to the size of dextrous standmounters) or full-on orchestral blow-outs (when they sound big enough to fill a concert hall).
Thrilling musicality and authority; built like a bank-vault door.

Magazine 9/2012

ATC SCM 40: "Good - very good" (75 out of 100 points)

Price / Performance: "good - very good"

"Solid, in design and technology timeless three-way floorstanding bass with closed housing and longtime studio proven midrange. Sophisticated and always unspectacular character with impressive dynamics and exemplary neutrality."


Magazine 6/2010
Place 1 out of 2

ATC SCM 40: Sound rating: 93 points

"Plus: Tremendously transparent, neutral monitor with wide projected space"


Magazine 7/2009
Place 1 out of 6
ATC SCM 40: "excellent" (5 out of 5 stars)

About as solid as you could hope for in construction, ATC's SCM40s deliver a commensurate assuredness and sublime musicality. Recordings that are on the shoddy side will have all their defects harshly illuminated though, but to hear exactly what your music holds, there are few other speaker options.

Tested with: Spendor A6 - Monopulse 42A - PMC FB1i - Roksan FR5 - Dynaudio Excite X36
* * *
ATC SCM 40: passive 3-way floor stand loudspeaker, hand made in the UK
ATC was founded on a principle of engineering excellence, and that principle still defines our products today. Given the right opportunities, ATC products will deliver exceptional audio performance, but the opportunities will only arise from careful and thoughtful installation and use.
The premise on which ATC began is a simple one – and one that, in many respects, is still true today: hi-fi loudspeakers tend to be detailed and accurate, but of limited dynamic range, while professional monitor speakers tend to express the opposite character.
ATC products were designed from the outset to offer the best of both. It's an easy concept to describe, but surprisingly difficult to engineer. The difficulty inherent in designing such loudspeakers is one of scale. Hi-fi levels of accuracy and detail call for lightweight moving parts and delicate engineering. Professional monitor levels of performance, however, demand far more robust components engineered to survive the rigours of high level use for extended periods.
The only way to combine the two is through precision engineering of a class and scale more often associated with aerospace or motorsport. But the results are worth the effort and the cost. ATC loudspeakers, with their unique in-house designed drivers, combine the best of hi-fi and professional to devastating effect.
ATC SCM 40 Features:
Short-coil/ long gap voice coil for tweeter, midrange and bass drivers
Massive optimised midrange/ bass motor assembly
Flat impedance curve allowing easy load for amplifiers
| | |
| --- | --- |
| | |
| 25mm Dual Suspension Soft Dome Tweeter | 75mm Dual Suspension Soft Dome Midrange |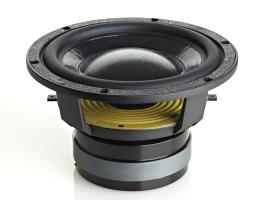 220mm SC Carbon-Paper Bass
Specifications
Drivers: HF 25mm ATC Neodymium, Mid 75mm ATC Soft Dome, LF 220mm ATC short-coil Carbon-Paper cone
Matched Response: ±0.5dB
Frequency Response: 48Hz – 22kHz (-6dB freestanding, no room gain)
Dispersion: ±80° Coherent Horizontal, ±10° Coherent Vertical
Sensitivity: 85dB @ 1W @ 1metre
Max SPL: 112dB
Crossover Frequencies: 380Hz & 3.5kHz
Connectors: Binding Posts/ 4mm Plugs, tri-wire capable
Recommended Amplifier Power: 75-300 Watts
Nominal Impedance: 8 ohms
Cabinet Dimensions (HxWxD): 980 x 265 x 300 mm
Weight: 31kg
| | |
| --- | --- |
| | |
| Entry Series Brochure | Entry Series Manual |