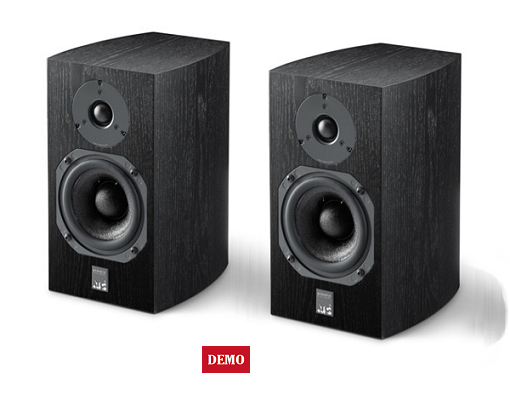 £875
ATC SCM 7

SCM 7:

"Very good" (68 out of 100 points)

Price / Performance: "very good"

Breathtaking clarity that would make even the best of the small British guilds envy. Astonishingly, even in the near field, a real spatial feeling of depth and of breathing instruments set in instead of a series of small mono-sound sources.

Almost magically she projected Christy Baron's breathy voice in "Mercy Street" in the listening room and followed even with the slightest listening level of every musical and tonal fineness with care and thoughtfulness and remained wonderfully musical and coherent.

Despite its quantitative limits one of the finest small monitors of our day.

"A dream monitor for quiet and near field listeners. It sounds ultimate balanced, silky-transparent and deep spatially."
ATC SCM 7

Stereophile "Class C (Restriced LF) Recommended Components 2017"
ATC's entry-level model is a small (11.8" H by 7.9" W by 9" D), two-way, stand-mounted speaker with a 1" soft-dome tweeter and a 5" mid/woofer. Unlike previous ATC models, the SCM v.3 has side panels that curve toward the rear, and its drivers are now flush-mounted in a fully veneered front panel.
The SCM v.3 produced an engaging overall sound marked by pinpoint imaging, excellent detail retrieval, and well-extended highs, said JM.
This British minimonitor "will sound best when the listener sits relatively close to it." (Vol.37 Nos.2 & 4 WWW)
ATC SCM 7

Stereophile "Class C (Restriced LF) Recommended Components 2016"
ATC SCM 7

Stereophile "Class C (Restriced LF) Recommended Components 2015"
ATC SCM 7

"I've not written a long review for a change. This one is short and sweet – just like the 7s. Combine the imaging of the old Proac Tablettes, the surprising bass of a Totem One and the enthusiasm of an old AE1. Each of these speakers is renowned for having a special and memorable characteristic. The diminutive ATC SCM7 seems to possess a good measure of each. It's one of those speakers that is so addictive and so unassuming that I think I'm going to have to buy a pair. They are like the cutest animal in the litter – the one you simply have to take home. Over time their musical consistency, honesty and downright practicality are simply undeniable. The thought of being without them has me reaching for a tissue."

Pros: Emphatic, transparent, detailed presentation. Solid imaging and strong dynamics. Great build.
Cons: At this price, nothing.
ATC SCM 7

Hi-Fi Choice Group Test Winner: With a powerful amplifier, a smooth source and properly positioned, ATC's SCM7 is capable of a wonderful flowing musicality that gets into the groove like no other here. In a well-matched system, you will be amazed at its rhythmic and dynamic alacrity.
The ATC brings its own unique skill set to the party, and does things none of the others here can. It is tight, taut, rhythmic, propulsive, expressive and unerringly musical. More than any other speaker here it gives you the sense that music is foremost an emotional experience.
It's the high quality, small and sealed cabinet that does it; it doesn't store any energy and has no bass port to huff and puff, and the result is that bass transients are lightning-fast with no overhang.
Piano has a solidity of tone that you can't not love, and fl utes and fl ugelhorns have a simple purity that's only available when there's no cabinet joining in the party. Even with a relatively light bass, jazz sounds gloriously propulsive, the listener getting their rhythm cues elsewhere. Bliss.
The most musically convincing here, but you'll need a serious system to drive it. A worthy winner
ATC SCM 7

It was immediately apparent from the first application (at a moderately but not insanely high volume) of the Irrational! But Efficacious disc's "Full Glide Tone," which begins at 5Hz (!), that the SCM7 was, for its size, bombproof. The woofer's excursions at subsonic frequencies were just plain huge. And while no sound emerged, the lack of sounds of distress or mechanical noises was most impressive.
The SCM7 deftly handled the "Channel Identification" and "Channel Phasing" tracks ofStereophile's Test CD 2 (Stereophile STPH004-2). Image specificity was excellent, and the difference between the in- and out-of-phase segments was as great as I've ever heard.
The SCM7 offered pinpoint imaging. "Easy to Love," from Ella Fitzgerald's The Cole Porter Songbook, Volume Two (CD, Verve 821 990-2), was a prime example
The ATC SMC7 v.3 is an extremely competitive entry in the British Shoebox Monitor sweepstakes. That it's made in the UK by a company known for making professional monitors, and has first-class fit'n'finish and addictively engaging musicality, are strong arguments in its favor.
Well done, indeed, and highly recommended. I look forward to the arrival of ATC's SCM19. John Marks - The Fifth Element #83
ATC SCM 7

The tonal balance "sevens" is close to ideal. These monitorki play exceptionally neutral and natural. It captivates color consistency across a critical range in diameter. The vocals and instruments are so free, so uninhibited that doubt arises, and even confusion: why so truly and seamlessly vast majority is not much more expensive speakers?
The biggest surprise, however, was the low range of the band. With its low efficiency, its extension is surprisingly good. Closed housing provides audible benefits in terms of definition and clarity of bass. No bold and virtually no coloration. The bass is subjectively much more even than the other monitors, which - as you know - often raise the average or higher sub-band. Probably also due to the fact that there is no boost, bass perceive as going down below, more extended.
SCM7 delicious exercise in the classics, especially on early music and small ensemblach. Allow you to "feel" of musicians playing instruments taste without thinking about whether the wording is something missing or not. Putting harmonics is hard to beat at this exceptional price.
New SCM7 monitors are great for small spaces, indeed anywhere where you do not need high volume levels. The fullness and naturalness - despite whatever limited bass - are huge advantages and distinguishing features of these kits. Audiophiles seeking speakers of this type, yet considering the purchase of other structures in the same price range (eg. KEF LS50 s) should take a deep breath and be sure to listen to ATC. This is a mandatory candidate on the list of purchasing.
ATC SCM 7

SCM7 no doubt they are the best speakers in the test. They have the best bass, middle and top, and the individual parts of the band are perfectly bonded together to form an inseparable whole. Columns are actually incredibly consistent, did not allow for figuring out where the range begins and where it ends.
Coming back to the lower range, I have to say that, despite the apparent moderation, but not thinness, ATC, if only they hit the appropriate recording, can utter a pretty hearty, full sound. Bass sounds great on them - you can admire this instrument. It's a blast, but a lot of detail about the work of the strings, fingers, distortion
Well you can hear the room in which the musicians are playing, whether damped "dead" studio, where the walls are lined with a thick layer of felt, creating an anechoic chamber or in the living room acoustically, where reflections from the walls of creation by the atmosphere of the recording. Such differences SCM7 communicate well.
Speakers playing very consistent, very clear signal from the amplifier. Quite unusual resolution of bass and midrange.
ATC SCM 7

They are small, cheap, easy to set up and offer excellent sound - ATC SCM 7 is the perfect speaker for small spaces.
Low tones surprise with their suppleness and elasticity. Hitting the strings of a bass guitar on the track "The Man forms of the Planet of Marzipan" of the Marillion band was fast and accurate, free from any resonant reverbs.
What we perceive as an abundance of low-frequencies is mostly their coloration distortion. It is heard best on the example of foot percussion - the "seventh" ATC system is a quick "shot" (full and fleshy, and not - as you might think - dry and barren) and almost immediately returns to the starting point; nothing rumbles, nothing drags.
ATC SCM 7

Turning to the ATCs and rehearing the Kreisler CD, both the studio's own character and that of the solo fiddle - especially ita harmonics just before the guitar and bass come in - were more natural.
In fact the SCM7s moved confortably ahead of the group. They could take high levels without strain, timbres were consistently more truthful and timig was excellet.
Jff Beck's claim that "You shook me" encompased "probably the ruddest sound sever recorded" was simply laughed aside by the ATCs.
Despite it's hunger for power, the little nipper from ATCwalks smartly away with the blue ribbon. The SCM 7 wins for its smooth , well-timed delivery and the sheer convenience of size.
ATC SCM 7

Here's my quick and dirty sonic description of the SCM7 speaker; it combines the dynamic agility of the Thiel PCM monitor with the harmonic suavity of the Aerial Acoustics model 5.
In a nearfield environment your ears will cry uncle long before the speakers begin to exhibit any signs of audible distress.
The ATC SCM7 does a very credible job of throwing up a cohesive three-dimensional soundfield. On phase-coherent recordings such as my own live concert CDs of the Boulder Philharmonic orchestra the ATC speakers deliver a remarkably accurate picture of the entire orchestra on stage to the point where I can even discern the different seating heights between the woodwinds and horns.
They are among the most dynamically satisfying small-footprint desktop monitors I've ever heard. In terms of fit, finish, and overall performance they keep up with speakers that are nearly twice their price. But the SCM7's are not merely high-value speakers. They are so good that even folks who could pay far more for a desktop speaker will discover that $1200 will purchase speakers that are all they could ever want.
ATC SCM 7

ATC SCM7's first second surprise: the sound of this magnitude is difficult to expect from these speakers. Such a foundation and a low-key confidence even more. After a minute surprise dissipates. Left alone with a warm, confident sound.
With high, but not a champion resolution where formal sounds are in perfect balance with the musicianship. So, monitors and music: how deep is ATC capable for this dive? What we see on the surface, almost perfectly: this restraint and style. British style.
Frequency response curve of this system is very smooth, without any serious attacks. Mids barely noticeable ahead of the rest of the sensitivity range.
For low frequencies the sensitivity of smooth descent - the lower frequency limit is one of the best in the test.

Magazine 10/2011
Place 2 out of 4


ATC SCM 7: Price / performance: "very good"

"The little ATC is the most worthy successor to the legendary BBC boxes for me: a fine near-fields with the highest precision and transparency. You do not even try to feign size or playing effect emphasized. If you like the unexcited listening with rather small figure, you will love the ATC. With it, you can spend hours listening to music, to be stressed out without a second."

Tested with: ProAc Tablette Anniversary - PSB Imagine Mini - Dali Zensor 1
* * *
ATC SCM 7 Features:
In-house, hand-wound precision flat wire coil
3.5Kg optimised short-coil/ long gap motor assembly
Flat impedance curve allowing easy load for amplifiers
6 year warranty
| | |
| --- | --- |
| | |
| 25mm Dual Suspension Dome Tweeter | 135mm Highly Linear Mid/Bass |
Specifications
Drivers: HF 25mm ATC Neodymium, Mid/LF ATC 135mm
Matched Response: ±0.5dB
Frequency Response: 60Hz – 22kHz (-6dB freestanding, no room gain)
Dispersion: ±80° Coherent Horizontal, ±10° Coherent Vertical
Sensitivity: 84dB @ 1W @ 1metre
Max SPL: 103dB
Crossover Frequency: 2.5kHz
Connectors: Binding Posts/ 4mm Plugs, bi-wire
Recommended Amplifier Power: 75-300 Watts
Nominal Impedance: 8 ohms
Cabinet Dimensions (HxWxD): 300 x 174 x 215 mm
Weight: 7.5kg
| | |
| --- | --- |
| | |
| Brochure | Manual |