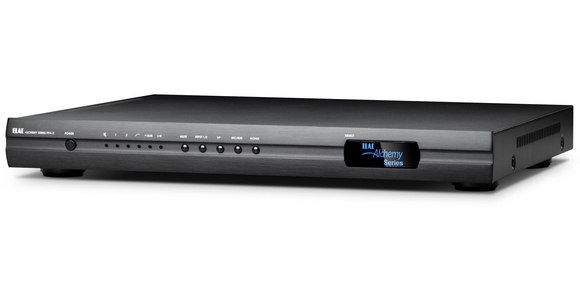 €999
ELAC Alchemy PPA-2 Features:
Fully discrete, balanced FET topology from input to output
DC servo-controlled output stage
Switchable MM or MC gain for each channel
MC loading continuously adjustable from 5 Ω to 999 Ω
Precise MC cartridge loading settings for each input can be displayed on the LCD information screen
Selectable Stereo or Mono operation
Highly precise RIAA equalization using 0.1% metal film resistors and selected metalized polypropylene capacitors
Selectable rumble filter
All signal routing through hermetically sealed gold-ongold relays
Ultra-low-noise DC voltage regulators
Microcontroller completely shuts down during normal operation to eliminate any clocking noises
Internally shielded toroidal transformer and linear power supply for very low radiated hum field
Provides an improved power source for the Miracord 70 and 90 turntable motor
12 V trigger input
Liquid Crystal Display for clear user information
Alchemy performs LP magic
The Alchemy PPA-2 is a full-featured phono preamp that uses all analog, discrete FET gain and EQ stages to transform microscopic grooves in vinyl into stunningly lifelike music. The PPA-2 can be tailored to specific cartridge requirements, with switchable gain for each channel, MC cartridge loading, and stereo or mono operation. A selection of RCA or XLR inputs and outputs adds even more flexibility to the most versatile phono preamp in its class.
Technical Information
Inputs: (2) RCA UNBALANCED or (1) RCA & (1) XLR BALANCED
Input impedance: 5-1KOhms variable or 47K
Frequency response: 10hz-20khz +/- 0.2dB
RIAA accuracy: +/- 0.2dB
Nominal THD+N: <0.005%
Signal-to-noise ratio (1 kHz): >86dB
Output Voltage: >6.0V RMS
Crosstalk (L-to-R or R-to-L): >80dB
Single ended Gain: 42dB (low) or 60dB (high)
Balanced Gain: 48dB (low) or 66dB (high)
Output impedance: 50 Ohms
Analog Outputs: (1) XLR BALANCED, (1) RCA UNBALANCED
Available finishes: Black
Dimensions (HxWxD) cm: 5.10 x 44.50 x 38 including jacks
Net Weight: 6.4 kg