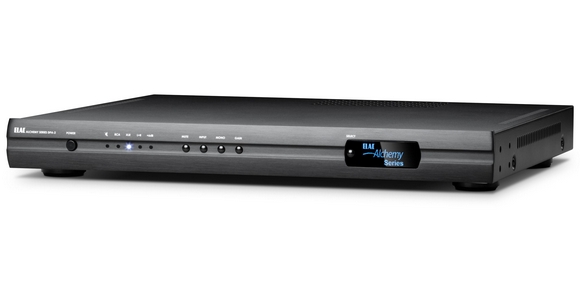 €1699
ELAC Alchemy DPA-2 Features:
Flexible power in a small package with 325 WPC or 650 W mono
Pure Class A input stage
Selectable high/low gain to match any preamplifier
Fully discrete FET input stage with DC servo-controlled output stage
Fully balanced input to output
Ultra-low-noise DC voltage regulators
Toroidal transformer and linear power supply for input stage
Class D PWM output stage
High-efficiency, low-noise switching power supply for output stage
Output power can be read out on the LCD information screen
12 V trigger input and pass-through
Liquid Crystal Display for clear user information
Pure Class A input stage
The Alchemy DPA-2 Power Amplifier is about dynamic musicality, thanks to design that combines Class A circuit topology composed of discrete FETs and a linear power supply using a toroidal transformer. The pure analog input stage preserves all the detail and nuance of the most delicate passages. The Class D output stage with switching power supply results in impressive output combined with cool-running efficiency.
Powerful, efficient, cool
The power output of the DPA-2 isn't just formidable, it's easily configurable for the needs of every system. Producing 325 wattsper-channel in stereo, the Alchemy amplifier can be easily switched to deliver 650 watts in monaural mode, sufficient to drive the most demanding, power-hungry loudspeakers.
Technical Information
Power Output/Channel (1% Thd+N, 1 Khz): (Stereo 325W/ch @ 4Ohms) / (Mono 625W @ 8Ohms)
Frequency Response: 5hz-20khz +/- 0.2dB
Nominal Thd+N (1 Watt Into 8Ω): 0.003%
Signal-to-Noise Ratio (1 Khz): 94dB
Input Impedance: RCA=12K, XLR=19K
Output Impedance: 0.03 Ohms @ 1KHz
Channel Separation (1 Khz): 70dB @ 1KHz / n/a
Gain: Stereo 24dB/30dB – Mono 18dB/24dB
Inputs: Unbalanced RCA, Balanced XLR
Outputs: Binding post 5-way
Available Finishes: Black
Dimensions (HxWxD) cm: 5.10 x 44.50 x 38 including jacks
Net Weight: 6.4 kg