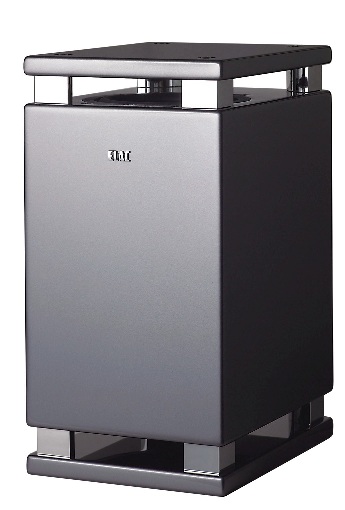 €1750
Configuratie push-push/pull-pull a celor doua difuzoare - practic nu exista vibratii ale cabinetului care ar putea afecta negativ calitatea sunetului reprodus

Incinta inchisa pentru un bass controlat si foarte expresiv

ESP

- circuit electronic de stabilizare ce previne aparitia suprasolicitarilor electrice si mecanice ale subwooferului chiar si la nivele extreme
SUB 2060 ESP: The finishing touch for sophisticated music lovers
The SUB 2060 ESP subwoofer combines stylish mirror-finish design and high tech. With its compact dimensions, this brilliant performer can be easily integrated in any interior design.

With its special LLD driver technology (Long Linear Drive) the subwoofer is set apart from the rest by its extremely precise and distortion-free bass reproduction both during quieter and louder musical passages.

Special feature: ESP® is a frequency and power dependent electronic stabilization programme for
controlled bass performance. Similar to ESP for cars where improved stability is provided, ELACs
subwoofer ESP® ensures controlled performance, even at maximum power. It also reduces background noises.
Specifications

Dimensions H × W × D

Weight

Principle

1-way active, closed box

Woofers

2 × 180 mm

AS cone LLD

push-push / pull-pull configuration

Upper Cutoff Frequency

40 ··· 180 Hz, adjustable

Frequency Range acc. to IEC 268-5

29 ··· 240 Hz

Phase control

Straight / Reversed

Max Amplifier Power

250 W (sine)

Inputs

1 × Line level channel (RCA)
3 × Speaker level input channels

Input Sensitivity

Line level: 1 × 200 mV
Speaker level: 3 × 2.5 V
Auto switching threshold 5 / 80 mV
Shutoff delay about 15 min

Input Impedance

Line level: 35 kΩ
Speaker level: 220 Ω, floating

Outputs

3 × Speaker level (hig-pass filtered)

Mains Voltages

90 ... 240 V~ / 50 ... 60 Hz

Power Consumption

max. 1.8 W (standby)
max. 380 W (at full-load operation)
Finishes

black high gloss
titan shadow
white silk-matt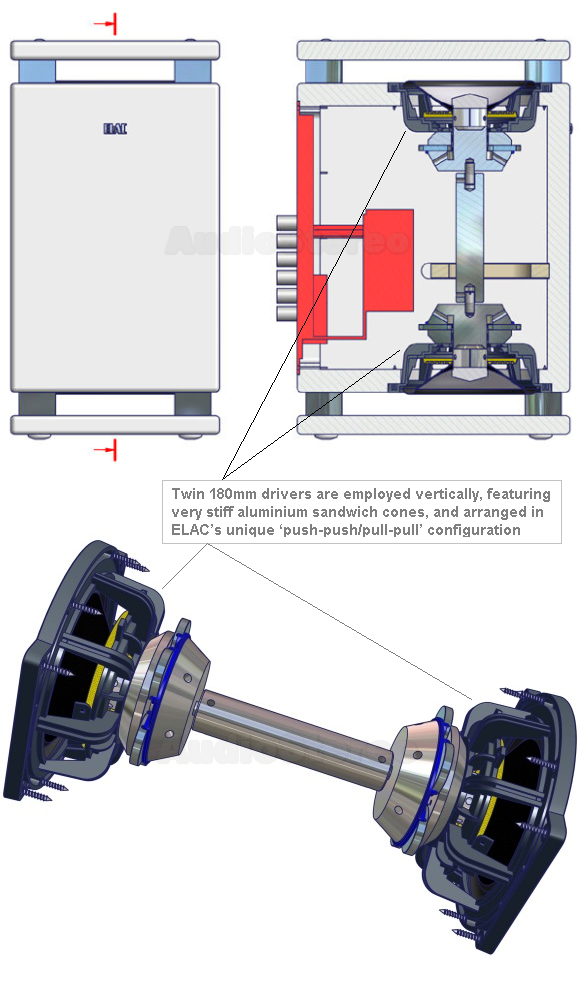 ELAC LLD woofers in push-push / pull-pull configuration: extremely precise and distortion-free bass reproduction both during quieter and louder musical passages