Discovery DS-S101-G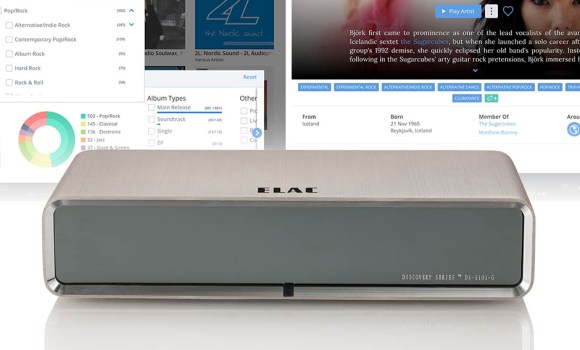 €1000
Discover the World of Computer Audio Without the Computer
The Discovery Series DS-S101-G Music Server solves one of the biggest hurdles in computer audio: the computer. And it offers the power of a full music server without the need for a laptop or desktop computer. Enjoy local and streaming music, rich multi-dimensional metadata, and multi-room audio - with support for multiple synchronized zones - all with the Roon Essentials interface that anyone can master in a few minutes.
One Component, Infinite Sound
Adding the Discovery Series DS-101-G Music Server to an existing system is simple, and adding your personal music collection is a snap. Connect either a hard drive to the rear-mounted USB port, or point the server to your Network Attached Storage device, and it will take care of the rest, organizing and gathering feature-rich metadata for your entire music collection. Don't stop there - expand your Discovery system to other rooms as well. Whether you want full functionality of an integrated amplifier, or a simple wireless speaker in the kids' room, the Discovery system is ready to grow whenever you are.
Audio Integration
Keeping in line with quality music, the lossless, high-fidelity music streaming service Tidal has been tightly integrated into the Discovery's software. Content from your local collection and from Tidal are presented in the same beautiful, easy-to-use interface.
Technical Information
Digital inputs: 1x gigabit Ethernet port, 1x USB 2.0 port (mass storage class)
Outputs: 2x Analog outputs (independent zones), 1x Coaxial output (independent zone, 192kHz 24-bit max), 1x Optical output (192kHz 24-bit max)
End Point Support: Discovery, Airplay, Roon End PointControl and
User Interface: Roon Essentials Control compatibility: iOS (64-bit devices) , Android (4.4 and higher) , Windows (7, 8, and 10) , Apple OSX (10.8 and higher)
Format Support:: WAV, AIFF, FLAC, ALAC, OGG, MP3, Native support for SPDIF/COAXL 24kHz - 192kHz
Multi-Room Support: Wired, Wireless, Synchronized audio
Playback Modes: Gapless, Crossfade, Shuffle, Repeat
Integrated Streaming Services: Tidal
Power Supply: 12 VDC 2A, 4.8 watts (normal operation)
Dimensions (W x H x D): 21 x 4.8 x 11 cm
Weight: 0.9kg
Available finishes: Silver
It's really very simple

The Discovery Music Server lets users open their personal music vault from another computer, Apple iPad** or Android tablet. Whether your choice is a full ELAC system, powered by an ELAC integrated amplifier and running an ELAC loudspeaker system, or a pair of ear buds, you can listen in one room or around the house with other Discovery-compatible products.
A wave of music

Discovery delivers music based on relationships between performers and composers, starting from the tracks you choose. TIDAL* delivers no-compromise music streaming, with millions of tracks in lossless, audiophile quality—a bigger music landscape than ever before. * Separate Tidal Subscription required
Your music, as you like it

Between users and across devices, you can select from downloads, ripped CDs and streaming services. Your collection is supported by a rich library of images and information—an archive of material that adds depth, knowledge and excitement to your listening.
Audiophile reproduction

The artists and engineers who recorded your music took great care creating it. It's no secret that Discovery takes the same care playing it back.