Discovery DS-S101-G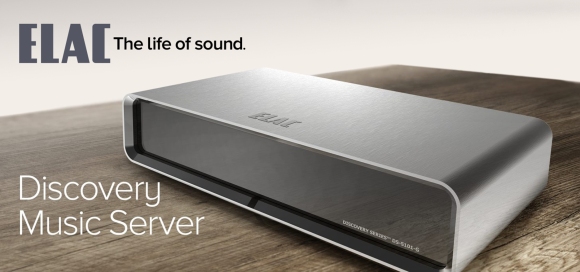 €948
"Innovative and amazingly comfortable system, the software lets every listener discover their collection in a completely different way and expands their horizons. Sounds dynamic, fast and direct." STEREOPLAY - Price / Performance: "Outstanding"

"The Discovery eliminates any need to use a dedicated computer to store music or operate your system (beyond your mobile device to run the app), and it works with both inexpensive USB and NAS storage options. Its compact form and minimalist design allow it to be integrated unobtrusively with an existing hi-fi rig." Sound&Vision - "TOP PICK 2018"
"Very high quality workmanship; Hardware equipment; Roon Essentials software; liquid operation; self-explanatory software interface; Sound quality / balanced sound. " Hi-Fi Journal - "Top Produkt"
"The Discovery is a superbly thought out product, delivering exceptionally good sound for the dollars, and unequivocally recommended." StereoNet - "Recommended"
"There is no easier music server on the market, and you can take that to the bank." TONEAudio - "Digital Product of the Year"

"Plus: bright, transparent, analytical - there's a tremendous amount of sound information for the compact design." AUDIO - Price / Performance: "Outstanding"

"Innovative and amazingly comfortable system, the software lets every listener discover his collection in a different way and broaden the horizons. Sounds dynamic, fast and direct." Stereoplay - Price / Performance: "Outstanding", "Highlight"

"Elac surprises us in several respects: The Discovery not only marks the sonically more than successful new entry of the Kiel in the electronics production, but also represents a milestone in dealing with digital media dar. This is the streamer of tomorrow!" STEREO - Value for money: "Outstanding" (5 out of 5 stars)
Discovery DS-S101-G Features:
Audiophile integrated network streamer and DAC preamplifier
Can be used as a DAC with a preamp and also as a network streamer connected to your external DAC
Can play different tracks to all the three zones i.e. digital out, analogue output 1 and analogue output 2
Can read a shared network drive or folder on any other pc connected to the same home network the discovery is connected to
Controlled by Roon Essentials remote app (e.g. 1, e.g. 2, e.g. 3) which can be used from a mobile phone or a tablet. A tablet is always preferred to browse through the whole music catalogue as roon has optimised the working of the app for a tablet
Quad Core ARM9 Processor 1.2Ghz, 512MB of storage for the OS, 8GB of flash memory for meta data storage
Cirrus Logic CS4398 24-Bit/192kHz DAC with Burr Brown op-amps
Two linear power supplies, one for each set of analog outputs
TIDAL and QOBUZ lossless music streaming services integrated into the Discovery's software
Spotify Connect support (Output 1 & 2): listen to your Spotify tunes on your Discovery
Full Internet Radio access through Roon's Live Radio.
Discover the World of Computer Audio Without the Computer
The Discovery Series DS-S101-G Music Server solves one of the biggest hurdles in computer audio: the computer. And it offers the power of a full music server without the need for a laptop or desktop computer. Enjoy local and streaming music, rich multi-dimensional metadata, and multi-room audio - with support for multiple synchronized zones - all with the Roon Essentials interface (e.g. 1, e.g. 2, e.g. 3) that anyone can master in a few minutes .
One Component, Infinite Sound
Adding the Discovery DS-S101-G Music Server to an existing system is simple, and adding your personal music collection is a snap. Connect either a hard drive to the rear-mounted USB port, or point the server to your Network Attached Storage device, and it will take care of the rest, organizing and gathering feature-rich metadata for your entire music collection. Don't stop there - expand your Discovery system to other rooms as well. Whether you want full functionality of an integrated amplifier, or a simple wireless speaker in the kids' room, the Discovery system is ready to grow whenever you are.
Audio Integration
Keeping in line with quality music, the lossless, high-fidelity music streaming services TIDAL and QOBUZ have been tightly integrated into the Discovery's software. Spotify Connect is also supported ensuring you will never run out of music options.

Discovery DS-S101-G - Spotify Connect (Windows 10 screenshots)
Technical Information
Digital inputs:
- 1x gigabit Ethernet port
- 1x USB 2.0 port (mass storage class)
Outputs:
- 2x Analog outputs (independent zones, selectable fixed / variable output)
- 1x Coaxial output (independent zone,192kHz 24-bit)
- 1x Optical output (192kHz 24-bit)
End Point Support (Streaming Support): Discovery, Airplay, Roon End Point, Spotify Connect (Output 1 & 2)
Control and User Interface: Roon Essentials Control (e.g. 1, e.g. 2, e.g. 3) compatibility: iOS (64-bit devices) , Android (4.4 and higher) , Windows (7, 8, and 10) , Apple OSX (10.8 and higher)
Format Support:: WAV, AIFF, FLAC, ALAC, OGG, MP3, Native support for SPDIF/COAXIAL 24kHz to 192kHz
Multi-Room Support: Wired, Wireless, Synchronized audio
Playback Modes: Gapless, Crossfade, Shuffle, Repeat
Integrated Streaming Services: TIDAL, QOBUZ, Spotify Connect, Live Radio (Internet Radio)
Power Supply: 12 VDC 2A, 4.8 watts (normal operation)
Dimensions (W x H x D): 21 x 5 x 11 cm
Weight: 1.1kg
Available finishes: Silver
Further Information
Audiophile reproduction

The artists and engineers who recorded your music took great care creating it. It's no secret that Discovery DS-S101-G takes the same care playing it back.

A wave of music

Starting from the tracks you choose Discovery delivers music based on relationships between performers and composers,

TIDAL and QOBUZ delivers no-compromise music streaming, with millions of tracks in lossless, audiophile quality.

Spotify Connect lets you send your Spotify tunes to your Discovery over Wi-Fi.

To top it off, thousands of internet radio stations are available through Roon's Live Radio.

It's really very simple

The Discovery Music Server lets users open their personal music vault from another computer, Apple iPad** or Android tablet. Whether your choice is a full ELAC system or a pair of ear buds, you can listen in one room or around the house with other Discovery-compatible products.

Your music, as you like it

Between users and across devices, you can select from downloads, ripped CDs and streaming services. Your collection is supported by a rich library of images and information - an archive of material that adds depth, knowledge and excitement to your listening.