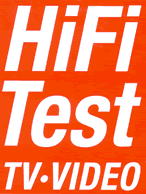 6 / 2009 - Jochen Schmitt
ELAC FS 248
Slim and Rank - The Victory Column
Rating:
"The new tower speaker FS 248 with the best of the Kiel-technology fund fell by its very fitted and sleek appearance ."...
Technology
... "The bass and midrange driver for the FS 248 are manufactured in aluminum sandwich construction, with a crystal-shaped aluminum foil (0.125 mm thick) is glued to a pulp cone. Two strategic splices, one at the cone neck, the other on the Unterrseite the crystal membrane, provide a good large-signal behavior with low partials. Even in the midrange, the baptized of Elac "AS-XR" crystal membrane is used here with a slightly smaller diameter and double-shaft fabric surround. At the top of the tried and tested JET tweeter good sound, based on the principle of the "Air Motion Transformer 'by Oskar Heil ."...
Sound
... "You notice it first, the extremely stable soundstage of the Elac speakers. It maps easily from the boundaries of the recording room and building, if required, a very large virtual live on stage in our listening room. ... The ELAC transducers play outstanding open and alive, with a dynamic range that we have not believed this slender columns. especially like the excellent fine dynamics of the speaker, which allows straight, even at low listening levels, the removal hearing of the finest details. Equipped with a total of six bass drivers, the FS 248 preserve their qualities even at higher volumes: the detached tone image with a rich bass ! The bass is always crisp and controlled, the mids are pleasantly ingratiating and shines with the phenomenally good high range resolution - very nice "

Laboratory
"Elacs new FS 248 loudspeaker shows a very good prefomancein the test lab, particularly in the linear frequency response, combined with excellent omnidirectional sound draws attention to itself."
Conclusion
"With the new FS 248 Elac creates a speaker with a modern design and living room friendly dimensions, has in addition to its optical qualities and offer lots of sound."