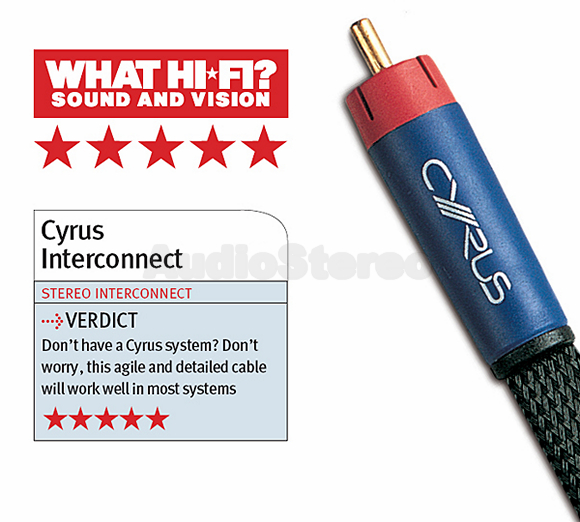 Cyrus Analogue Interconnect Features:
Solid core technology and Eichman plugs
Crafted from the best non-magnetic materials
This interconnect is perfectly balanced to fully exploit the subtle engineering of acoustic balance tuned into Cyrus systems
Product Overview
This high quality analogue interconnect will maintain the true sound of your Cyrus components.
During the critical development phase of each component we tune every element to extract the most thrilling performance possible and because the connecting cables form part of the system circuit, we carefully select interconnecting cables that compliment the tuned Cyrus sound.
Cyrus products are tuned using our interconnect, meaning this combination provides the ideal Cyrus sound.
Further Information
Constructed from the highest quality materials and with a simple straight-wire construction, the Cyrus Interconnect is designed to bring out the best in your choice of high-end Cyrus audio components - by adding nothing.
Unlike most other interconnects that will change the sound of your system to the sound of the interconnects, the Cyrus Interconnect will bring you the true sound of your Cyrus components.
Our choice of single core cables goes back more than 15 years to the first Cyrus speaker cable and was bourn out of the collective collaborations our engineers formed while considering solid core cable theory. Working with like-minded audiophiles such as Denis Morecroft (founder of DNM) they believed that solid core was always the best sonic option.
We specify the latest RCA plug design from the Australian company Eichmann Technologies for the plugs because, like all Cyrus engineering, it contains no ferrous metals to adversely influence the signal and has also been found to offer impressive long term performance.
The Cyrus Interconnect is therefore the result of many years evaluation of cables and although using the most advanced high performance materials and ideas, is simpler than ever, ensuring minimal influence on the music.
The Cyrus Interconnects are available in 2 lengths: 0.5 mtr and 1.0 mtr.
Specifications
Core purity - 5n Oxygen free
Core diameter - 0.4mm
Inductance - 1.42uH/m
Capacitance - 13.6pF/m
Loop resistance - 0.27 Ohm/m