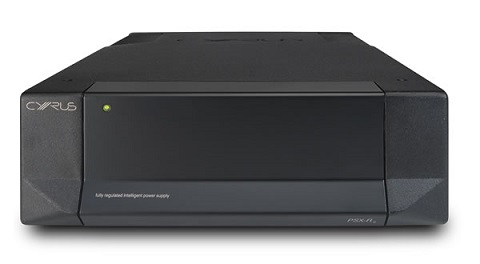 £845
Cyrus PSX-R₂ Features:
Enhancements from our flagship Anniversary System have been transferred into the PSX-R2
Provides an extremely smooth and stable DC feed, helping the partnered component to achieve its full potential.
300VA toroidal transformer with an enormous current delivery capability
30,000 microfarad slotted foil reservoir capacitors ensure that very low ESR and wide bandwidth
Symmetry: this wide dual bandwidth DC amplifier works as a linear voltage regulator in an identical manner for the positive and negative sides of the PSX-R
Current sharing fast double output power transistors ensure quick response in providing the demanded current from the partnering unit
Low noise high gain amplifiers in a propriety design provide the remarkable load and line regulation
What is improved over the PSX-R Mk 1?
Our flagship Anniversary system developed to celebrate our 30 years in hi-fi, incorporated many enhancements that included improvements to both AC and DC lines in the PSX-R. These enhancements have been transferred into the PSX-R2 and have improved the unit's ability when partnered with our more recent amplifiers that are capable of greater resolution today not possible ten years ago.
Owners of the original PSX-R can have their Mk 1 power supply upgraded by the Cyrus factory to full PSX-R2 specification.
What does a PSX-R₂ do for my Cyrus products?
The PSX-R₂ is a separate power supply that may be added to most Cyrus models. It's connected to the mains and acts like a giant battery. The PSX-R₂ feeds the highly tuned audiophile circuitry in your CD or amp with super smooth 'regulated' DC power to allow the advanced circuitry to perform without the 'noise' that is present in the public mains supply.We describe a PSX-R₂ as a resolution enhancing upgrade. A system could include a number of PSX-R₂ s for several components.
In low Power applications such as DACs, Preamplifiers and CD players the PSX-R₂ provides a highly stable external power supply with massive inertia which ensures ideal battery like operation.
In high Power applications the PSX-R₂ establishes a very stiff voltage source behind the power amplifier and successfully inhibits mains related distortions and charging spikes from reaching the signal lines of the amplifier.
Specifications
Load regulation: ±35.5V 0.2% full power when connected to a Cyrus Integrated amplifier
Load regulation: ±21V 0.001% @ 20VA
Line regulation: 0.2% at full output load
Noise: <40μV rms
Dimensions (H x W x D): 73 x 215 x 360 mm
Weight: 7kg
Finish: Silver and Brushed Black
Construction
Enclosure: Cyrus Inverted die-cast chassis
Material: Lightweight non-magnetic alloy
Compatibility (current range)
Integrated amplifiers: Cyrus 8a, Cyrus 8₂ DAC
Pre-amplifiers: Pre₂ DAC
Power amplifiers: X Power
CD players: CD i
Streamers: Stream Xa, Stream XP₂ Qx
DAC: DAC X+, DAC XP Signature
Cyrus CD i / Pre₂ DAC Qx / 8a with PSX-R₂