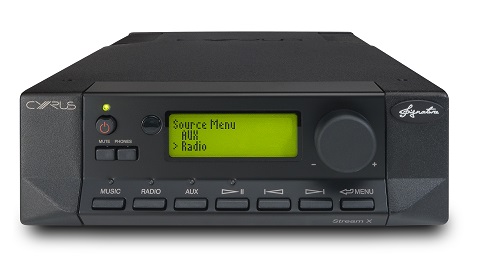 £1160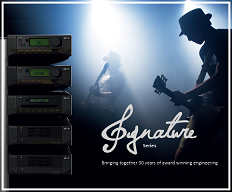 Stream Xa -- What Hi Fi? Sound and Vision Awards 2015 "Best Streamer £1,000 - £1,500"

"Engaging and transparent, the Stream Xa has a rare knack for drawing you into a song and keeping you there."
Cyrus Stream X Signature

When it comes to sound the traditional brand shows why it has proved good and was able to win a lot of international prizes for 30 years. The British combo convinced us by the rich deep bass, which is in no way expressed in a roar, but expressed precisely and accurately.
Lets the groups of instruments merge in such a musical way and is a tasteful blend of clean structures, enriched by a personal touch. Components of character - that is precisely what the producer from the island is making since immemorial times.
Cyrus Stream X₂

The Stream X₂ times precisely; leading edges are well defined and free from grain in a style that few CD players can better.
I have almost stopped listening to CD since discovering this and am coming to the conclusion that streamers are better than computers at delivering digital signals. This was clearly backed up when I put the Cyrus up against a Macbook running Decibel software, the latter had a USB connection to the DAC while the Cyrus was on coax which may have a bearing but the advantage was quite distinct.
The streamer has considerably more gravitas, there is a palpability to the sound that makes everything more vibrant and real. I used a superb 24/96 recording called 'Chasing the Dragon'. This is one of the best in terms of room acoustics that I've encountered and with the Mac you get a good sense of the scale of the venue.
When the Cyrus takes over this becomes more solid and three-dimensional largely because the bottom end is fully fleshed out. This underpins the soundstage in a dramatic fashion and brings the music into your own room in a remarkably convincing fashion.
Delivers massive amounts of detail, the noise floor is very low so you can hear right down into the mix.
It makes for a palpable sense of realism with a great recording and makes you want to hear more hi-res material.
The sound is dynamic, never short on pace and opens up your digital files to an extent that few CD transports can hope to emulate.
Cyrus has succeeded in making an easy to set-up and use streamer that delivers the sonic goods.
| | |
| --- | --- |
| | Stream XP₂ Qx -- What Hi Fi? Sound and Vision Awards 2014 "Best Streamer £1,500+" |
| | |
| --- | --- |
| | Stream Xa -- What Hi Fi? Sound and Vision Awards 2014 "Best Streamer £1,000 - £1,500" |
Cyrus Streamline₂

Streamline 2 played very evenly, at first even with a slight distance. Already after five minutes of listening could say that Cyrus cares about the behavior of the ratio between bandwidth ranges and do not allow yourself a moment of forgetfulness, even with a more aggressive and dynamic music. Unprepossessing chunk of the game just fine, pursuing the idea of high fidelity. What's more, it reveals the differences between recordings, but not Pastwa over worse realized.
Conclusion: Natural, versatile sound and rich equipment is a big pluses, but the biggest seems to be price. For 5900 zł we get a device that can serve as a home entertainment center. Simply connect the column and possibly other devices you want to use as the source of the sound. Streamline 2 is such a super-mini tower with audiophile twist.
Cyrus Stream XP₂ Qx

Best streamer £2000+, Awards 2013.
Stream Massive Attack's Teardrop and the Cyrus doesn't lose a single ounce of the ethereal vocals.
It has all the hallmarks of the Cyrus sound: detail is breathtaking, the timing is razor sharp but never clinical, and the delivery is fast and uninterrupted.
There's plenty of space at the top end for the music to reach a natural high without ever feeling strained or getting too bright, while basslines are agile and strong.
The Stream XP2-Qx serves up an energetic, enthusiastic and truly immersive performance
Cyrus Stream Xa

Hi-Fi Choice awards the Stream Xa their coveted Hi-Fi Choice Recommends Badge
The Stream Xa is masterful with CD-originated material
Playback leaves you sitting with a big dumb grin on your face
If you want a new streamer in place of your CD player, this should be on the list
Cyrus Stream XP₂ Qx & X Power

"Cyrus upgraded its equipment for the future, but remains the high quality standards of the English brand loyal. The new Stream XP₂ Qx and the X Power amplifier in any case constitute a great, musical team, which combines British culture of sound and functionality. "
Cyrus Stream XP₂ Qx

Best streamer £2000+, Awards 2012
This superb streamer sounds absolutely fantastic
Fast, precise sound
Cyrus Streamline₂

Best streaming system up to £2000, Awards 2012.
An undoubted star with stellar sound quality, ease of use and advanced functionality.
Open and dynamic, it extracts a stunning level of detail presenting music with brilliant clarity and precision.
There's no edge to treble or softness to bass, leaving you to simply focus on enjoying the music.
The real upgrade here is the improved file compatibility and sure enough hi-res 24/192 files sound superb. Listen to Muse's The 2nd Law and lead trackSupremacy has incredible scale and power.
Cyrus Stream XP Qx

The Stream XP is one of a few products I have tested over the last year that has helped convince me it is time to rip my CDs and stow them away
What's important is the appearance of the sound it produces, wich can be uncannily rich, detailed and musical
I don't think you'll find something that sounds better, even if there are plenty of more shiny alternatives
Highly open and revealing sound; well featured
Cyrus Stream XP

Impressive sound quality for a streamer
High feature count
Cyrus Stream XP

Wired or wireless the Cyrus Stream XP won't disappoint
Files sound great
Natural, engaging delivery
Awesome sense of timing
Cyrus Streamline

A practical and stylish way to access most digital sources
Detailed sound with clean and clear treble; plenty of digital inputs;
Cyrus Streamline

Cyrus's first music streamer works wonders with digital music collections
Fantastic insight and exceptional timing
Energetic, driven sound
Stream a few CD-quality WAV files and the Cyrus makes an immediate impact, with a wonderfully open and inviting soundstage.
It extracts a stunning level of detail. Instruments and vocals are beautifully layered and music sounds fluid yet unhurried, allowing the listener to savour every moment.
Cyrus Streamline

"Cyrus Streamline is a network drive amplifier "all in one" providing consistent performance and good sound level as well as a great versatility"
"Associated with good speakers, it may be the heart of a high-fidelity system that's comfortable with many musical genres"
Cyrus Stream X

Several aspects of the sound will appeal to lovers of classical music in particular.
Detail is also good, indeed one of the best in the group. It's there in plenty, but is never forced on one's attention and it is kept very neatly in proportion as part of an over-arching whole. Nevertheless, if you want to hear exactly what's going on in a recording, this is one very good way of getting to it.
Cyrus Stream X Signature Features:
Audiophile streaming engine that pulls audio tracks from your network music library
Very best components and engineering techniques to provide music lovers with spine tingling high fidelity performance.
Advanced filtering and resonance reducing techniques to ensure the sound quality
Network connectivity: Cabled (Ethernet) and Wireless (802.11g)
Multiple digital music sources: UPnP/ DLNA local network music streaming, Qobuz and TIDAL online lossless music streaming, Internet Radio, 3x Coax digital input, 2x Optical digital input, 1x USB A
Controlled using our Cadence App or 3rd party Apps (e.g. mconnect Player) you can search tracks from your complete library and play them at the touch of a button
High quality LCD display that navigates the menus and shows the input selected
Aux Display Mode: Select large input name or sample rate
For a High-end streaming system partner the Stream X Signature with a high-end DAC preamplifier and power amplifiers like our top range DAC XP Signature and Mono X 300 Signature.
Recommended 3rd party App for Cyrus streamers:

mconnect Player - media player app to support UPnP/DLNA and Google Cast(Chromecast):
Recommended install for Synology and Qnap NAS users:

MinimServer - you'll get excellent sound quality from your music collection using MinimServer as your DLNA media server.
Product Overview
Stream X Signature is our highest performance streamer source component; it uses Cyrus' state-of-the-art streaming engine and has been developed to provide the best sound resolution possible from a network audio library. It will fully exploit the highest quality 24-bit/192 kHz files.
Make the most of the latest high resolution music files, or upgrade the quality of your CD resolution music. Our flagship music streamer allows you to browse and select from your entire music collection using the Cadence app.
Stream from any UPnP or DLNA device, or use one of the streamer's host of additional inputs to play music from your PC or digital player.
With simple set up, seamless navigation and sensational sound quality, listening to music just got a whole lot more enjoyable!
Further Information
A dedicated music streaming source, Stream X Signature uses advanced filtering and resonance reducing techniques to ensure the sound quality produced by the unit is completely unaffected by unwanted signals and noise.
The Signature range uses the very best components and engineering techniques to provide music lovers with spine tingling high fidelity performance.
For the ultimate hi-fi system, use the Stream X Signature with a DAC XP Signature and a pair of Mono X 300 Signatures. Include a CD Xt Signature to add CD compatibility to your system, and connect the whole system together using our Digital Interconnects to ensure you enjoy the full effect of our famous tuning.
Technical Information
Digital audio performance
Digital Input: 500mV pk-pk 75 Ω
Digital Output: 500mV pk-pk 75 Ω
Sample rate: 32/ 44.1 / 48kHz and multiples to 192k
Enclosure
Dimensions (H x W x D): 73 x 215 x 385 (mm)
Finish: Brushed black, Quartz silver
Weight: 4.7kg
Network connectivity *
Cabled Network: Ethernet
Wireless Network: 802.11g
* UPnP / DLNA streaming, Qobuz, TIDAL, Internet Radio

Internet Radio (Cadence App for Android screenshots)
Inputs
Digital Inputs - 5 SPDIF (3 coaxial + 2 optical)
USB input

Outputs
Digital Output - 1 SPDIF (coaxial)
Control Interfaces
LCD front panel display with twist & click control
Cadence App for Android and Apple IOS devices
3rd party Apps for Android or IOS e.g. mconnect Player
Construction
Enclosure: Cyrus Inverted die-cast chassis
Material: Lightweight non-magnetic alloy