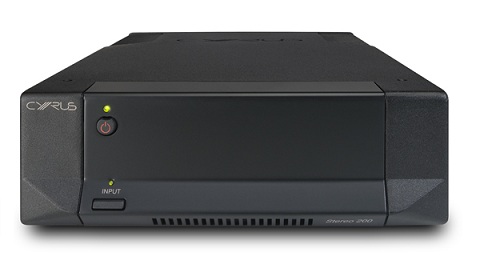 £1895
Cyrus Stereo 200

The voice sounds as if it were physically 'there' between the loudspeakers, with the only real limitations coming from the loudspeaker boxes. You quickly begin to realise this 'thereness' holds throughout, but it also comes from the midrange out.
Where this valve amp comparison hits home is in soundstaging. The Cyrus has a rare and valuable sense of three-dimensionality in its imaging that normally comes from the thermionic end of the amplifier spectrum. And yet, unlike thermionic valves, the Cyrus 200 is state of the art and relatively cool running in use. The live Shostakovich and Tchaikovsky piano trios played by Argerich, Kremer, and Maisky [DG] are a fine example of this soundstaging at work, in that you get a sense of the physical stage itself, and of three artists playing to a live audience through ambient information.
I think Cyrus has nailed Class D with the 200 power amplifier. I've heard my fair share of Cyrus amplifiers in my time, and this one is at least up there with the best of them. But more than that, the Cyrus 200 is an important amplifier, because it shows what Class D can do without costing a small fortune. While I've 'banged on' about Class D here (partly because the technology still has to justify its place in the audiophile hierarchy), I suspect most people who hear this amp will simply buy it because it sounds damn good. Highly recommended.
Cyrus Stereo 200

The song's wonderfully thick and fruity bass guitar sounds effortless, even at very high levels that would have many similarly priced products wheezing. It is also pleasingly tuneful and stops and starts in all the right places, giving the sound a rhythmic correctness that underpins everything else in the mix.
The amplifier is able to blend everything together well, giving a detailed, multi-layered sound that is a pleasure to listen to.
The Stereo 200 conjures up a spacious recorded acoustic, yet one that invites the listener right in. Again that strong bass is in evidence, and at high volume levels gives the amplifier a commanding sound.
Once again, its supple handling of the song's bass guitar pushes things along with alacrity, while vocals are clean and expressive and guitars upfront and engaging.
Can tackle crashing electric guitar chords and drums with relish.
It's certainly one of the feistiest sounding Cyrus power amplifiers I have ever heard.
Has real appeal for those needing a fine-sounding powerhouse that doesn't take over their living space.
LIKE: Big power in a small package; gutsy, musical sound. WE SAY: Excellent value compact powerhouse.
Cyrus Stream XP₂ Qx & Stereo 200

Price / Performance: "excellent"
Once again this proves that a Cyrus device creates its proverbial musicality from the wonderful midrange. Even verbal contributions appeared unbelievably natural, colourful and in fact a little bit charming.
The sound pattern provided by the Cyrus combination is characterised by resilient easiness and rhythm with fantastic timbres carried by a downright outstanding and harmonious midrange reproduction, for example in Joe Jackson's "Steppin' Out". The tonal accuracy can be heard down to the minutest detail, especially in vocals and small line-ups
The Stereo 200 is one of the few Class D amplifiers that are able to take on the best of the comparable parallel classes A and AB. There is no trace of pale timbre or dull trebles which certainly results from the relatively high upper frequency limit and the trained ear of Peter Barlett who personally adjusts every device for the serial production.
The top-class Stream combines DAC, network player and pre-amplifier for rather reasonably priced 2790 Euros. Only an analogue input will most likely be missed by some people. Overall, this device is energetic and puts heart and soul into playing music while it stays smooth and deeply musical. The same goes for the super strong power amplifier. Kudos!
Measurements - Stream XP₂ Qx:

Distortion factor (400 Hz/-9 dB): 0.003 %
Output Resistance Cinch: 94 Ω
Output voltage Cinch ( 0 dB FS): 2.18 V
Power consumption off | standby | idling: 0 | <2 | 13 W

Measurements - Stereo 200:

Continuous Output into 8 | 4 Ohm: 175 | 286 W per channel
Peak output into 4 Ohm: 355 Watt per channel
Intermodulation at 50 mW | 5 Watt | Pmax -1 dB: 0.01 | 0.01 | 0.04 %
Power consumption off | standby | idling: 0 | <2 | 17,5 W
Cyrus Stereo 200 Features:
New and unique Cyrus topology that combines the benefits of high efficiency and lower heat generation
Immense power from a very compact chassis: 2 x 200 watts into 6 Ω from the single ½ width Cyrus die-cast aluminium chassis
Speaker impedance Detection at power up
Four independently regulated supplies for the low level audio signal carrying components
Totally separate power supply for the microcontroller and all other support electronics
Individually fused and decoupled high current supply for the left and right channels
Stereo 200 will partner perfectly with the Pre₂ DAC preamplifier
Product Overview
Stereo 200 is a high performance power amplifier incorporating a new and unique Cyrus topology that combines the benefits of high efficiency and lower heat generation from a digital output stage, with our highly refined analogue power supply design. Delivering a herculean 2 x 200 watts into 6 Ω from the single ½ width Cyrus die-cast aluminium chassis, this amplifier is intended to fit in the range between the X Power and the Mono X 300 Signature.
A new 200 watts per channel stereo power amplifier using a unique hybrid design, this high quality power amp provides immense power from a very compact chassis. An ideal match with Stream XP₂ Qx or Pre DAC models.
Technical Information
Specifications
Power output: 2 x 203W (into 6 Ohms) and 2 x 325W (into 4 Ohms) at 0.1% THD+N
Distortion: THD+N <0.005% (1kHz into 8 Ohms @1/3 full power)
Frequency Response: 1Hz – 50Khz (-3dB)
Sensitivity for 50W into 8 Ohms: 381mV (RCA input), 775mV (BAL input)
Input impedance: 33kΩ (RCA), 33kΩ (BAL)
Chain Output: 381mV (buffered, unity gain ref. 381mV RCA input, 775mV Balanced input.)
S/N Ratio: 100dBA (ref 170W/ 8 Ohms)
Dimensions (H x W x D): 73 x 215 x 360 mm
Finish: Brushed black, Quartz silver
Weight: 6.9kg
Line inputs:
2x XLR balanced*
2x RCA phono*
*The front panel INPUT key selects RCA Phono or Balanced input connection
Outputs
4mm/spade/bare wire loudspeaker terminals
RCA Chain Out (buffered, unity gain)
Construction
Enclosure: Cyrus Inverted die-cast chassis
Material: Lightweight non-magnetic alloy
Internal power Supplies
1 x 475 VA Toroidal transformer

Communications
MC-BusTM System Bus
12V Trigger Input
Further Information
High power from size
Using the Cyrus Class D hybrid technology we are able to produce a high powered stereo amplifier in a small box without any cooling issues or compromises in the audio quality. This high efficiency design ensures nearly all the power supplies energy is used for the amplifier output rather than wasted as heat. Using this technology (even with the large power outputs) there is no need for cooling fans in the box. Efficiency and damping factor are further improved by the unit harvesting the energy used to stop the speaker cone moving and placing it back into its power supply reservoir.
SID (Speaker impedance Detection)
Each time the amplifier is powered up, the SID (Loudspeaker Impedance Detection System) interrogates the speaker load and adjusts the amplifier to provide correctly balanced and smooth high frequencies. This has proved to be a highly successful method of accurately aligning the class D output devices. When the unit is mains cycled an assessment is made of the loudspeaker load at high frequencies. There is an adjustment made to the frequency response of the amplifier output to correct for differences when driving different load impedances.
Music sense
From full standby the unit can be made to switch on with any signal input above -55dB. After being on if there is no signal above -55dB into the unit for 10 minutes the unit will go back into standby.
Reconstruction filter
The class D output filter uses a ferrite shielded coil with oxygen free copper and polypropylene metal foil capacitors in order to achieve the best possible distortion figures, damping factor and sonic performance. This section is a key fine-tuning point for the sonic signature of the amplifier.
Fault monitoring
The unit constantly monitors the circuit for errors in supply voltages, DC offset from the speaker outputs and also over current short circuit. The circuit will even detect a short circuited output without any applied audio signal.
Modulated carrier
The class D carrier frequency has been modulated at sub sonic frequencies in order to remove any possibility of quantization jitter. The two amplifiers also have linked carriers in order to eliminate any beating or crosstalk artefacts between the two amplifiers.
Mains and Power Filtering
Stereo 200 has extensive filtering on the mains power supply, providing the greatest possible immunity from external factors affecting the audio performance. The microcontroller and all other support electronics are powered form a totally separate power supply, heavily filtered to minimise the noise floor. All low level audio signal carrying components are powered from 4 independently regulated supplies. The high current supply is also individually fused and decoupled for the left and right channels, minimizing crosstalk.