Thomas Hermsen, Lars Mette
"The ELAC engineers, the champagne corks pop: the small C310.2 Jet, the surprise of the test field and wins the Preis-/Leistungssieg!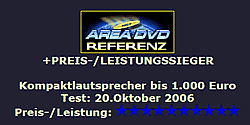 Maybe they are now experiencing a second spring, because due to the solid overall approach, this speaker has been over 2 years and is currently in the program even as additional Limited Edition at selected dealers. Would deserve it: everything they acoustically begins, it brings to an end with flying colours. Never has the feeling as a listener, such a small box to hear. Who the C310.2 Jet strong electronics and a fine subwoofer to the site, which may be the dream of great sound at small dimensions every day in his listening room experience anew. In addition further complication is that the small box ELAC extremely detailed and informative aufspielt, but never sounds exhausting. It allows both the so intense, deliberate listening experience, as well as the discreet background sound an dinners. Among the latter also fits her very appetising appearance. Despite the use of metal materials, the Jet C310.2 not as a foreign body in the apartment, but can be harmonious and inconspicuously in residential landscapes.

Currently, we know no alternative for an investment of 599 euros (per piece), such a fascinating mix of audiophile aspects and combines universal applicability. "