5 / 2011
ELAC FS 67.2
Excellent speakers can lead vocals, even such a demanding, like Anna Netrebko on CD Sempre Libera.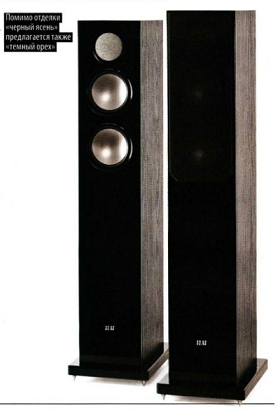 Photo: WHAT HI-FI?
For Air and transparent sound; rhythm; clear bass, expressive vocals, great focus, scope and organization of space
Against Black film looks prostetski
Verdict small and modest in appearance florstander loudspeaker played confidently, accurately and exciting music of different genres
Talk about products that have pleased us, always a pleasure, even if they do not really stand out among their own kind. Speakers ELAC FS-67.2 low growth - 95 cm, do not shine finish or refinement in shape - rectangular in cross section with a simple vinyl on the sides and rear faces. But the glossy front panel, you will not see any screw heads that secure the speakers, no slots for the grill - just let Moon-faced diffusers, metal mesh covering the soft dome tweeters.
These speakers - 2.5-way dual-ported bass reflex rear, to which are attached branded collapsible tube of foam rubber that allows a low-frequency radiation. But in our room for them to resort did not have to: this component audio FS-67.2, we immediately put them into a plus. Bass they have no bulges, as often happens with small floorstanders, and drones, it's pretty deep, well-managed and texture. Equally flattering characteristics of the other end of the spectrum, unfortunately, we can not provide - the top of the somewhat rough, but without the sharpness and hardness, just for a mid-air and clear, as these ELAC, I would like to HF and brilliant, but we understand that this is unlikely to be achieved within a given price.
Excellent speakers can lead vocals, even such a demanding, like Anna Netrebko on CD Sempre Libera. In the slogans of 50 Cent from the album The Massacre distinct and expressive intonation, and the voice is not drowned in multiple layers of tracks. Beautiful focus and the formation of musical space - another distinctive feature of the loudspeaker, which in the aggregate in the tonal balance allows them to confidently carry out even the symphonies of Tchaikovsky.
Very recommend a closer look at this model from ELAC.
"WHAT HI-FI?", May 2011 www.whathifi.ru