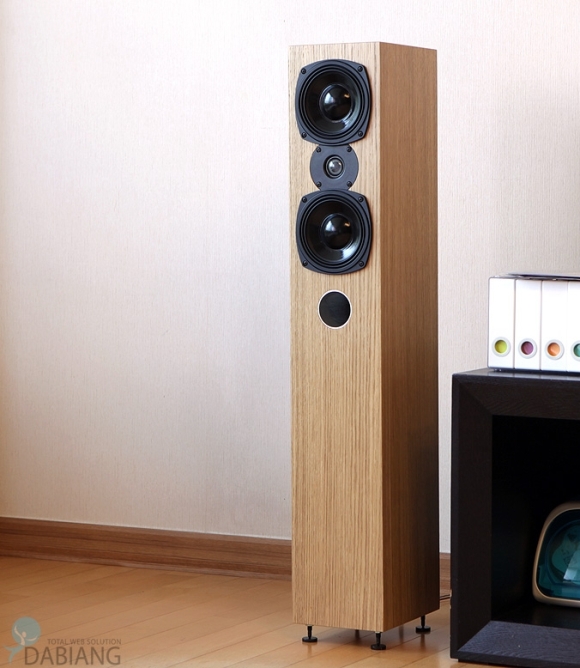 €740
XAVIAN Delizia

Very good news: In the August issue of Czech Stereo Video magazine you can find the Xavian Delizia against Tannoy Mercury V41 duel.

XAVIAN Delizia




Fast and consistent with surprisingly good quality bass... Very specific, hard hitting, of almost perfectly educated contour and even distribution of power between individual subbands. This bass very fast, compact, suitable for a great rate music, what obviously predisposes Xavi to rock or other speed demanding musical genres.
Very good stereophony. A wide scene, the general impression large space and very precise location in the foreground, with a strong and fixing sources apparent - it's distinct advantages.
Vivid, strong play with a great quality bass and very convincing Area remain. Sounds addicting and? Exciting, especially music from? strongly marked rhythm, but not only. Columns rock rather than the vocal. Some may complain about Sharpen sound. Perfect quality execution and? - the only one in? the test - natural veneer, while maintaining a very affordable price.
Woofer-midrange: Unusual is the upper suspension. Double fold the rubber suspension. Outright disproportionately large magnet... its diameter exceeds the size of the membrane itself. Basket is openwork, aerodynamic arms metal cast.
The tweeter has a textile membrane with 26 mm diameter. uses neodymium magnet and dampening chamber.
XAVIAN Delizia

The builder decided on the use of proven symmetric combination D'Appolito, having a very beneficial effect on the characteristics of the scatter acoustic waves, in particular vertically.
PROS: Meticulously designed, not demanding on the amplifier. Spacious, with precise location further plans, sustainable and cultured, and at the same time quite dynamic
They combine the advantages of the Bonbonus monitor sound, expanding however, they stretched for better bass and better organized space.

XAVIAN Delizia

Literally deliciózní compact speakers are excellent tasting the true values ​​of high fidelity.
Beautiful production design
Very decent purity recitation
Amazing control and respectability sound
Pleasant, peaceful and relaxed tuning will help you to daydream

Tweeter

: 26 mm impregnated fabric soft dome, working chamber under the membrane, magnetic structure with high power handling, made in Italy

Midbass

: 2 x 132 mm impregnated paper membrane, 40 mm aluminium voice coil, kapton former, non resonant twin-wave rubber surround, die-cast basket, made in Italy

Cabinet

: 16 mm MDF, handcrafted, real wood veneers, front firing aluminium bass-reflex port, magnetically suspended front grills

Terminals

: gold plated binding posts
Delizia is a compact floorstanding speaker of modern design coming from the popular Bonbonus.
Larger cabinet volume produces deeper extension on bass frequencies supported by a massive front aluminium bass-reflex port.

Music is rich, dynamic and it is a pleasure to listen also to high levels.

Thanks to its universality Delizia is perfect for both stereo and home cinemas systems.
Available in 3 different real wood hand-made veneers and 9 different pastel colours, painted on real wood veneer.

The whole production is made in our factory near Prague.
Specifications

Mid-bass frequency unit

132 mm exclusive custom made Xavian, impregnated paper membrane, 40 mm aluminium voice coil on kapton former, non resonant twin-wave rubber surround, die-cast basket

High frequency unit

26 mm exclusive custom made Xavian, impregnated fabric soft dome, working chamber under the membrane, magnetic structure with high power handling

System type

2-ways damped bass-reflex, front aluminium bass-reflex port

Cabinet

hand-made, panels of 16 mm thickness, magnetically suspended front grills, real wood veneers

Frequency response

(-3 dB on reference axis): 50 - 20000 Hz

Connection

1 pair of gold plated binding posts

Nominal impedance

4 ohms

Crossover frequency

3000 Hz

Sensitivity (2,83V/1m)

87 dB

Recommended power amplification

30 - 120 W

Dimensions (HxWxD)

900 x 160 x 200 mm

Net weight (1 unit)

12,1 kg
Finishes

| | |
| --- | --- |
| oak, beech, wenge real wood veneers and 9 pastel colours, painted on real wood veneer | |

- 2x 132 mm exclusive custom made in Italy
- Impregnated paper membrane
- Non resonant twin-wave rubber surround
- Aluminium voice coil on kapton former
- Die-cast Alu chassis, vented below spider

- 26 mm exclusive custom made in Italy
- Impregnated fabric soft dome
- Working chamber under the membrane
- Magnetic structure with high power handling

- Audio Grade high quality components
- Air wounded Inductors on all sections
- Film Capacitors on all sections
- 250V Polypropylene Film Capacitors in key points, stable capacity, low loss. low tolerance

Cabinet technology