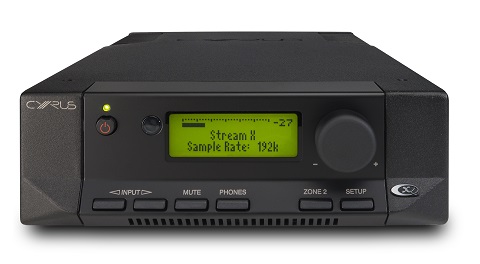 £2070
Cyrus 8a

Extensive space as faithfully reflects the acoustic recording rooms, but the surprising strength of Cyrus were low tones. It was not just a bass, but powerful basiszcze. I would add that it controlled. The organ recordings could be counted Hertz and probably himself Roberto Barletta, the constructor of my Xavianów would be surprised if they obeyed with Cyrus.
Like clockwork directed me toward the rock slabs. And there just showed what it takes to ride no hands. Strong, supple, elastic bass, combined with an acute attack of drums, made the rhythm section zasuwała like mad locomotive.
The slower pieces from the circle of Pink Floyd, Genesis and Camel recognition aroused stereophony, rhythm and mood music. "Sobbing" David Gilmour's guitar sounded in this combination is best. And all this with a device the size of a shoe box!
Conclusion: Those who have not yet had to deal with Cyrus, should be waiting for a big surprise.
Cyrus 8₂ DAC

When it comes to sound the traditional brand shows why it has proved good and was able to win a lot of international prizes for 30 years. The British combo convinced us by the rich deep bass, which is in no way expressed in a roar, but expressed precisely and accurately.
Lets the groups of instruments merge in such a musical way and is a tasteful blend of clean structures, enriched by a personal touch. Components of character - that is precisely what the producer from the island is making since immemorial times.
Cyrus 8a

Preis/Leistung: "Sehr gut"
Timeless chic, with modern special features à la zone 2 'blessed integrated amp that will let nothing acoustically despite its stocky shape.
Bass is meaty-contoured, the highs sound airy and delicate.
Cyrus 8a & PSX-R

"Crisp, enjoyable sound"
"There is an intrinsic rightness to the sound that lets you relax into the music, and enjoy what you find"
"If you want a big sound in a small package, this is a great way to go"
Cyrus 8a

The diminutive Cyrus 8a punches well above its weight.
The 8a sounded exceptionally clean; at low volume I noted similarities to other amps in the group, especially the Rega, in terms of scale. But increasing the levels revealed just how clean this amplifier is.
Through the 8a, drums, especially on the Denny album, were the tightest and most forceful sounding of the amps on test, and gave music real pace.
The piano on 'Telegraph Road' sounded equally pure through the Cyrus, which seemed to add nothing and allowed the quality of the original recording to shine through.
Measurements:

Rated at 70W, it delivered close to 90W with 105W, 200W and 325W under dynamic conditions into 8, 4 and 2 ohm loads, suggesting great tolerance of difficult speaker loads.
Distortion is very low (0.00015-0.01%, 20Hz-20kHz), the output impedance low and consistant at ~ 0.045ohm (20Hz-20kHz) and the response positively subterranean with a near-DC bass extension!
Cyrus 8 DAC

Delivers a spacious and engaging sound
Strong, agile and clear sound
Controlled and confident delivery
The 8 DAC is everything that you would want from a Cyrus: clear and precise. Play Oasis' Wonderwall from a CD and Liam's signature vocals are delivered with great clarity alongside the jangling guitars.
It has impeccable timing and works with ruthless efficiency, determined to deliver every ounce of detail from a recording.
No note is allowed to wander free, and dynamics are controlled brilliantly. There's also a muscular quality to the sound that adds authority at either end of the frequency range.
Cyrus 8a

Another classic Cyrus – everything we've come to expect and love about the brand
Superb detail, accuracy and control
Dynamic and powerful
Working through test tracks, the familiar Cyrus sound quickly becomes apparent. This amplifier is a music delivery machine in every sense. Radiohead's 15 Step is a complex and intricate track to keep under control and deliver in one piece.
The accurate, detailed Cyrus has no issue, delivering a clean, punchy sound that manages to be precise yet still dynamic and powerful.
A familiar design, a familiar sound and a familiar result: a five-star verdict for a slice of Cyrus hi-fi.
Cyrus 8 DAC

Cyrus Audio won the Diapason D'Or award for the best mid-range integrated amplifier with the Cyrus 8 DAC
Cyrus 8XPd QX + CD 8 SE + PSX-R

The general price level, which these devices are sold for (n.r. Cyrus 8 XPd, CD 8 SE, PSX-R), is best value for money, regardless of the price ceiling. It is already a really good sound at this level, and the price, if you compare it to a strictly high-end products, it is quite a bargain.
The amplifier is fast not only in the bass, but also in the whole band. There is little to fault the midband and highs that consistently join. There is no shortage of color saturation, there is no evidence of drainage features, but is speed. Nice sound for the cymbals that have color and the appropriate metallicity, but also the intensity of the treble does not go beyond linear. The amplifier does not have any problem with the drawing of space, wyłuskując many details about the location of instruments and voices. Quite well can cut out the background vocals in the middle of the stage.
System 8 (n.r. Cyrus 8 XPd, CD 8 SE, PSX-R) very proudly represents the country of origin. Sounds good in every way, offering really good value for money.
Cyrus 8XPd QX + CD t

Dynamic clean at the top of the band, saturated in the middle. Engaging and fatigue-free.
Sound system Cyrus is not "surgical" precision, but it has an excellent top of the band, while the emotion focused on the diameter.
The sound space turns out to be a large, built in front of us and around us.
The sound space turns out to be a large, built in front of us and around us.
Ability to extract modulation, articulation, textures, moods Cyrus is above average. Letting go of any CD, quickly turn our attention to the diameter. It's a bit of heat, but in a way invigorating, full and plastic.
Provides an excellent balance between naturalness and assimilation, virtually all recordings sound at least pleasant.
High tones are very clean, because the higher diameter is smooth and quiet, so sometimes go to the front - there is no sweet rounding is clear detail. Sheets have and impact, and voiced "halo".
All you listened, had a great rhythm, "input".
Distortion spectrum shows an almost perfectly clean, with a second harmonic at low -85 dB, which is also the only above the level of -90 dB.
Cyrus 8₂ DAC Qx Features:
Audiophile DAC integrated amplifier
24bit/192kHz upsampling Qx DAC: all connected sources will benefit from clock regeneration and upsampling the incoming data to 192khz

High precision quartz reference anti jitter: Accurate alignment of clock edges eliminates circuits timing errors
24bit/192kHz upsampling: Minimise phase shift in audio band
Specially developed fully balanced analogue low noise 4 pole post DAC stage design: Flat response across audio band
Advanced power supply and multiple filtering techniques: Enhance the best possible DAC performance
Extensive use of Star-earthing: Minimising power supply effects on audio signal
Sonic benefits of the Qx DAC include smoother treble definition, wider sound staging and more tuneful bass that will 'time' better

High current power amp: Delivers highly dynamic drive for loudspeakers providing 320W peak power into a 1 Ohm load
Regulated VAS power supply: Clean and stable voltage amplifier stage, no trace of ripple and noise
Extremely short signal path: Reduced crosstalk and extremely low distortion, preserving signal purity
No output relay: Purist design and clean signal path, no sonic degradation
Soft-start system: No turn-on thump
Digitally-controlled analog volume control: ±0.2dB channel balance, accurate and stable soundstage
Three modes LCD display operation: "Small input", "Large input" and "Large volume"
Twin transformer design: Separated audio circuits and control systems
Can connect with a PSX-R2 adding both detail and dynamics to the amplifiers performance
Cyrus 8₂ DAC Qx will partner perfectly with the CD t disc player and Stream X Signature streamer
Suitable for the new QXR digital interface upgrade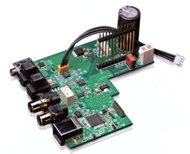 QXR DAC Module
Cyrus Qx DAC
The Qx DAC is a circuit board of high end DAC components which converts your digital sources to analogue in fantastically high detail.
The Qx DAC makes the most of any digital input. Whatever the resolution of the incoming digital source, the Qx DAC upsamples it to the highest 192kHz resolution, meaning it will improve the sound of all connected sources. The effects of the high end DAC components used in the Qx DAC board are instantly noticeable; you will hear new details and enjoy clearer and more defined higher frequencies.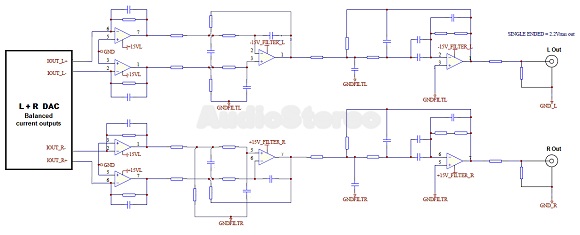 Qx DAC:
24bit/192kHz DAC with balanced current output and low noise 4 pole analog filter design. Sophisticated regulation stages.
Technical Information
Specifications:
Power output: 2 x 88W (into 6 Ohms)
Burst Power: 320W (IHF, one channel driven into 1 Ohm)
Distortion: 0.002% @ 1kHz (into 8 Ohms) 0.005% @ 1kHz (into 4 Ohms)
Frequency Response: 0.1Hz – 100Khz (-3dB)
Damping Factor (1kHz): 150
Sensitivity (70W): Line: 237mV
Input impedance: 40kOhm (RCA).
Output voltage: 237mV (Tape out), 480mV (Pre out)
S/N Ratio: 105dBA (ref. 40W)
Channel Balance: ±0.2dB (0dB to -63dB)
Volume control accuracy: ±0.1dB (0dB to -63dB)
Dimensions (H x W x D): 73 x 215 x 360 mm
Finish: Brushed black, Quartz silver
Weight: 7.2kg
Qx DAC specifications:
Audio output impedance: 47Ω
Frequency response: 20Hz-40kHz (96kHz Fs); 20Hz-20kHz (44.1kHz Fs)
THD: <0.002% (ref. 1kHz, 0dB)
S/N ratio: >110dBa
Dynamic Range: >100dBa
Channel separation: >100dB @ 1kHz
- 192kHz Up-sampling
- Accurate re-clocking
- Additional high performance regulated power supplies
Line inputs:
6 analogue
Digital inputs:
2 electrical SPDIF (24bit/192kHz)
2 optical SPDIF (24bit/192kHz)
1 USB Computer slave input
Outputs
Bi-wire loudspeaker terminals (BFA plugs supplied)
Pre out (x 2)
Zone 2 out (or Tape out)
Headphones out
Construction
Enclosure: Cyrus Inverted die-cast chassis
Material: Lightweight non-magnetic alloy
Internal power Supplies
1 x 350 VA Toroidal transformer with 5 regulated rails
1 x Separate toroidal transformer for control systems

External power Supplies
Highly regulated PSX-R2 upgradeable
Communications
MC-BUS™ System BUS
Remote Control Supplied with Cyrus system remote control

Standby power consumption
Less than 1W