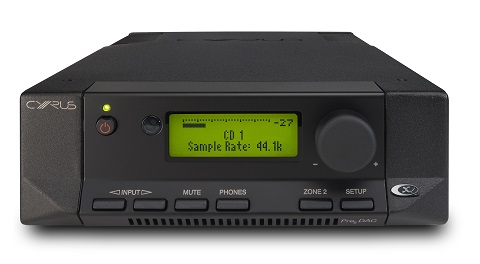 £1545
Cyrus Pre DAC & X Power

A particular strength of Cyrus has always been timing – and it still is. The components have exemplary qualities in terms of flow and rhythm - building up the sound pattern from the eminently important bass and middle range, which is very characteristically transmitted completely without breaks - is richly facetted and enormously natural.
Hardly any other piece of equipment in the same price range, but of a different make, will exceed or at best equal a Cyrus amplifier in reproducing the human voice.
The energy balance is also right and ensures that nothing is annoying or drifts off into the world of clinical analysis. The soundstage is nicely illuminated, well thoughtout in its depth and width. The space-time allocations are authentic, delivering an amazing image, and with it a convincing credibility of the dimensions illustrated. It sounds very open, free and detached.
LABORATORY COMMENTS - Pre DAC:

Outstanding laboratory results. All values measured are absolutely at the top of the range, although it is of course the distortion, noise and crosstalk values which are the most interesting.
Elegant, rhythmic "swinger" and excellent pre-amplifier with high-quality D/A converter. Upgradable.

LABORATORY COMMENTS - X Power:

Respectable output performance, certainly sufficient for most applications with substantial spare capacity and top-quality values in all important categories such as extremely low distortion and low noise.
Despite its compact size, powerful and colourful mono/stereo power amplifier with pronounced audiophile virtues.
Cyrus Pre DAC Qx & X Power

Cyrus Pre Qx DAC
Overall rating: Outstanding 91 points
Price / Performance: Good - Very Good

+quick off

+very open and pointed in the space map

Cyrus X Power
Overall rating: Good - Very good 74 points
Price / Performance: Good - Very Good

+black and edged in the bass

+punchy mids

Husqvarna Group from Sweden delivers the aluminum die-cast housing to Huntington, where it is fitted at the Cyrus headquarters.
It goes forward - deep black bass and potent. The energy was so strong that ultra-compact speakers seemed overwhelmed a trace in our test. The high speed and thrust yearn for an adequate customer - the power hungry, the stronger the picture.
Cyrus is on the opposite side of the ear flatterer. This had hands-on presence in an adagio of Monzart. Without the trace of sentimentality, crisp and information rich.
With Magico Q3 (40.000EUR): The extremely clean sound - In the listening room began the burn in period with the little Cyrus Vor-/End-Kombi. And indeed: The Q3 also runs on smaller amplifiers. Even at party levels made ​​the fun.
Cyrus Pre XP d & 8 Power

Cyrus seems to be incapable of producing lack-lustre amplifiers - this preamp used in clonjunction with the 8 Power amp is a mighty combo
Exposes layer after layer of detail
Fast, punchy and precise delivery
Sensational timing
Cyrus Pre XP d & 8 Power

Detailed and subtle, with little character added to sound
"They are capable of a very high degree of subtlety"
"One of the most revealing combinations in the test, its character (or lack of it) making it a very honest and straightforward part of the reproduction chain"
Cyrus Pre₂ DAC Qx Features:
Audiophile DAC preamplifier
24bit/192kHz upsampling Qx DAC: all connected sources will benefit from clock regeneration and upsampling the incoming data to 192khz

High precision quartz reference anti jitter: Accurate alignment of clock edges eliminates circuits timing errors
24bit/192kHz upsampling: Minimise phase shift in audio band
Specially developed fully balanced analogue low noise 4 pole post DAC stage design: Flat response across audio band
Advanced power supply and multiple filtering techniques: Enhance the best possible DAC performance
Extensive use of Star-earthing: Minimising power supply effects on audio signal
Sonic benefits of the Qx DAC include smoother treble definition, wider sound staging and more tuneful bass that will 'time' better

Digitally-controlled analog volume control: ±0.2dB channel balance for accurate and stable soundstage
Three modes LCD display operation: "Small input", "Large input" and "Large volume"
PSX-R2 socket to upgrade for greater resolution and dynamics
Suitable for the new QXR digital interface upgrade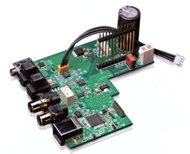 QXR DAC Module
Product Overview
The Pre2 DAC Qx offers a sonic step up in performance because of our superb sounding Qx DAC card. The Qx DAC sounds more open and detailed than ever with an ability to paint a captivating 3D image for your music.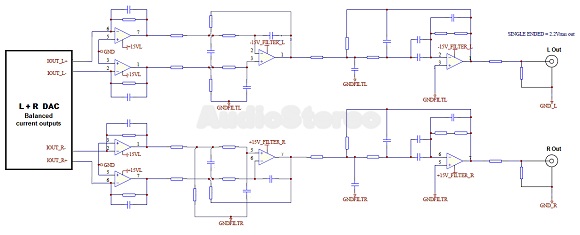 Qx DAC:
24bit/192kHz DAC with balanced current output and low noise 4 pole analog filter design. Sophisticated regulation stages.
Technical Information
Specifications:
Distortion: 0.002%, 1kHz
Frequency Response: 0.1Hz – 500Khz (-3dB)
Input Sensitivity for 1V Output: 500mV
Input impedance: 40kOhm (RCA).
Output Level: 3V (for 1.5V Input)
S/N Ratio: 108dBA (unWTD)
Channel Balance: ±0.2dB (0dB to -63dB)
Volume control accuracy: ±0.1dB (0dB to -63dB)
Dimensions (H x W x D): 73 x 215 x 360 mm
Finish: Brushed black, Quartz silver
Weight: 5.4kg
Qx DAC specifications:
Audio output impedance: 47Ω
Frequency response: 20Hz-40kHz (96kHz Fs); 20Hz-20kHz (44.1kHz Fs)
THD: <0.002% (ref. 1kHz, 0dB)
S/N ratio: >110dBa
Dynamic Range: >100dBa
Channel separation: >100dB @ 1kHz
- 192kHz Up-sampling
- Accurate re-clocking
- Additional high performance regulated power supplies
Line inputs:
6 analogue
Digital inputs:
2 electrical SPDIF (24bit/192kHz)
2 optical SPDIF (24bit/192kHz)
1 USB Computer slave input
Outputs:
Zone 2 / Tape-out
Preamp-out (x 2)
Headphone
Construction
Enclosure: Cyrus Inverted die-cast chassis
Material: Lightweight non-magnetic alloy
Internal power Supplies
1 x 130 VA Toroidal transformer with 5 regulated rails
1 x Separate toroidal transformer for control systems

External power Supplies
Highly regulated PSX-R2 upgradeable
Communications
MC-BUS™ System BUS
Remote Control Supplied with Cyrus system remote control

Standby power consumption
Less than 1W