na
"Universal artists, endowed with musical sensitivity. For a fairly modest price, you get advantages of more expensive speakers."
"... Put a live album by Patricia Kaas, and you will see that they are spiritually rich and transmit voice, even in this flawed record - except that sibilants could be a little quieter. On the other hand, it is the sharpness of execution coupled with the ability to penetrate the emotional essence of the songs that makes BS184 truly universal! satellite music lover."
"Incredibly, the power and vitality sprayed by Elac BS 184..."
"...on the Elac, one could not escape the impression of a freshly cleaned window pane."
"Balanced-clear, very dynamic and enormously alive playing loudspeaker."
"Well-balanced with a slightly decreasing, but extensive bass... THD continuously at a low level in bass, amazing reserves."

TT175AS: difuzor midbass cu membrana sandwich hartie-aluminiu

JET III: tweeter cu tehnologie Air-Motion-Transformer (folded foil)

DC ring

(JET Dispersion Control)

:

inel pentru controlul dispersiei ce se monteaza in jurul tweeterului JET (accesoriu optional)
BS 184 "The Jack-of-All-Trades"

Cu greu gasesti o incinta atat de versatila precum modelul BS 184. Este o incinta de raft solida, capabila de aproape orice. Fie ca este vorba de muzica clasica, pop sau jazz, obtii o incinta compacta inteligenta cu un sunet proaspat, modern, la un pret corect.

BS 184 a fost optimizata pentru pozitionare (in apropierea peretelui) de raft, dar, dupa cum este obisnuit la ELAC, poate fi adaptata la conditiile camerei cu ajutorul unui bung pentru controlul basului alcatuit din doua piese.
| | |
| --- | --- |
| | Disponibil ca accesoriu: standul LS 70 este perfect adaptat pentru aceasta incinta acustica. Protectiile metalice inserate in baza incintei se potrivesc exact pe cele trei spike-uri ale placii superioare. In plus exista posibilitatea fixarii cu surub pentru stabilitate si siguranta sporita. |
Specifications

Dimensions H × W × D

Weight

7.5 kg

Principle

2-ways, bass reflex

Woofer
Bass Port

Tweeter

Recom. Amplifier Power
at Nominal Impedance

20-150 W / channel

Crossover Frequency

2,500 Hz

Sensitivity

87.5 dB / 2.83 V / 1 m

Nominal Impedance
suitable for amplifiers (from ... to)

6 Ω
4 ... 8 Ω

Minimum Impedance

4.8 Ω at 220 Hz

Frequency Range acc. to IEC 268-5

40 ··· 50,000 Hz

Nominal / Peak Power Handling

70 / 100 W
Finishes

black ash decor (high gloss baffle)
cherry decor (black painted, soft-finish baffle)
white painted silk matt
black painted silk matt
The folded foil membrane arrangement in the world famous JET-tweeter is driven by a powerful neodymium magnet system. it plays effortlessly anf free from resonance, breezy and transparent up to 50,000 Hz and is, with its maximum linear frequency response, especially suited to sound reproduction of DV-A and SACD formats.

The ELAC "JET Dispersion Control DC" is a flat ring made of open-cell rubber foam which is mounted around the JET orifice with four clasps (or with adhesive tape).

The JET DC results in a broadband reduction of about 0.5 dB of the radiated sound level nearly independent of frequency. The JET DC is best suited for rooms with little sound absorption at high frequencies, especially for rooms with large windows without curtains or with a smooth floor without a carpet.


Note: The loudspeakers of the 180 series are not supplied with the JET Dispersion Control - this is an optional accessory.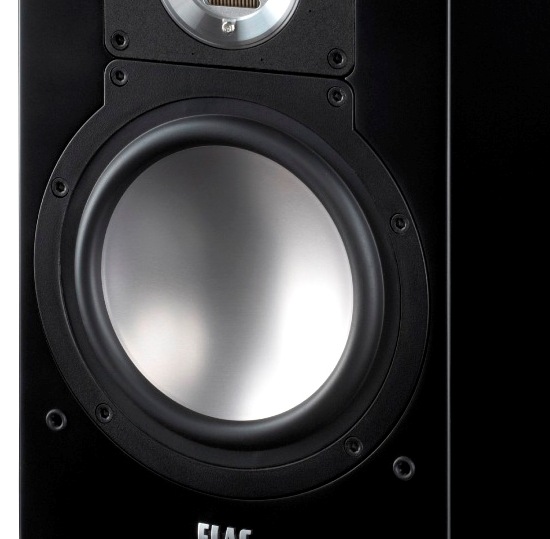 TT 175 AS midbass used in BS 184 and FS 189
Extremely deep bass, low coloration and accurate sound reproduction are achieved with ELAC's aluminium sandwich membrane woofers. An ELAC specialty: during a special gluing procedure a 0.2 mm thick aluminium layer is combined with a cellulose cone forming the sandwich membrane. This membrane technology results in an extremely stiff membrane that eliminates partial vibrations.